Vivo Mobile India has reported revenues of INR 6,146 crore in FY 16-17, which is a huge leap over the previous year's revenues as interest in Chinese smartphones has skyrocketed in recent years. Vivo Mobile has had brand ambassadors such as high profile actors Ranveer and Aamir Khan. It hopes to differentiate its brand image from the budget Chinese smartphone in Indian market.
Incorporated in

2014

Revenue FY 16-17

INR 6,146 Cr

Loss FY 16-17

INR 112 Cr 

Funds Raised

 INR 718 Cr
Financial Performance of Vivo Mobile India
Vivo Mobile statement of profit and loss in the company's latest financial statement reveals revenues have skyrocketed by as much as 556% in its third year in India from INR 936 crore in FY 15-16. The company's revenues come largely from the sale of its mobile devices. There has been a surge of interest in Chinese smartphone companies with Vivo, Lenovo, Xiaomi and Oppo gaining a foothold over 51% of the market.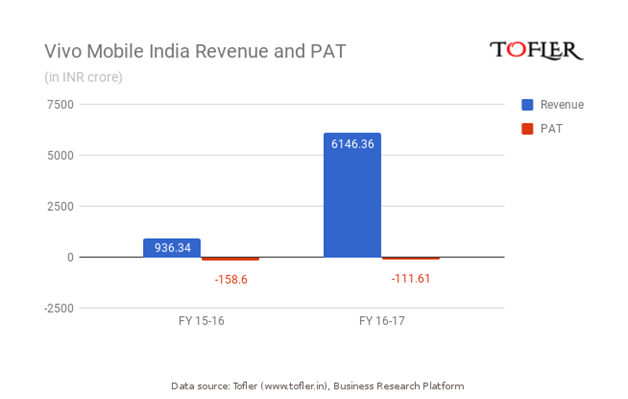 Vivo Mobile continues to operate at a loss but it has narrowed by 30% from INR 166 crore in FY 15-16 to INR 112 crore in FY 16-17.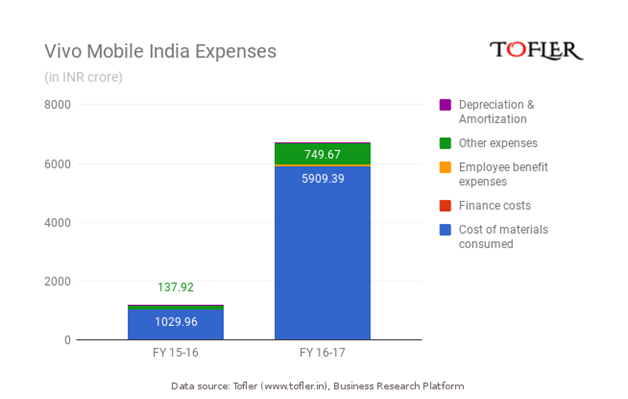 Vivo Mobile's expenses for the fiscal year stood at INR 6,258 crore, a leap of 471% from INR 1,100 crore in FY 15-16. The bulk of the company's expenses goes towards the cost of materials consumed. Employee benefit expenses have also gone up by 473% and advertising and promotional expenses have jumped from INR 85 crore to INR 543 crore, which the balance sheet includes under other expenses.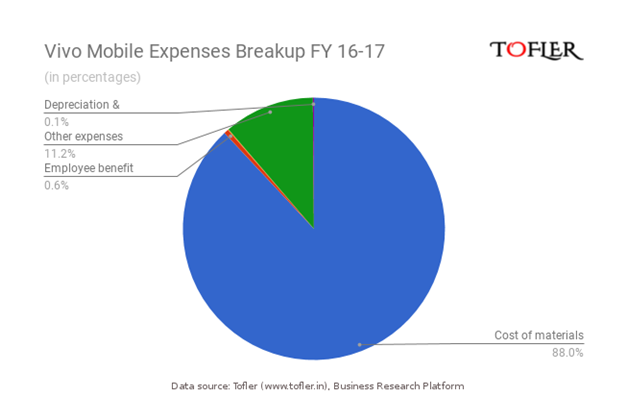 About Vivo Mobile India
Vivo Mobile India was incorporated in India in 2014 with its headquarters in Gurgaon as a subsidiary of the Hong Kong-based Multi Accord Ltd. The entry of Chinese smartphone players in the Indian market has been led by saturation in the home market and Vivo is no exception. Its foray into India was marked by aggressive, high decibel advertising in IPL tournaments and most recently, in the signing on of Aamir Khan as brand ambassador. This last move is a strategy to build credibility in the Indian market, where Chinese phones have until recently been seen as cheap products.
The company's growth was largely driven by the sale of its sub-INR 15,000 smartphones. Vivo may now be targeting an older audience in their 20s and 30s. At the moment, Vivo is at the top of its game in India, only trailing behind Xiaomi and Samsung in terms of market share. Oppo and Lenovo follow closely.
(For annual reports, financial statements, company research reports, directors and other financial information on Indian companies, head over to www.tofler.in – Business Research Platform.)
Tofler makes no claim of ownership or affiliation with any trademark / logo (REGISTERED OR UNREGISTERED) used in this article. Trademarks or logos, if any, published on this page belong to their respective owners.