Xiaomi Technology India Pvt. Ltd. reported revenues of INR 8,380 crore in the FY 16-17, surpassing its past performance exponentially. The Chinese mobile phone company made a recent entry into the Indian market and put up stiff competition for higher priced yet long established players in the mobile phone market.
Incorporated in

2014

Revenue FY 16-17

INR 8,380 Cr

Profits FY 16-17

INR 164 Cr 
Financial Performance of Xiaomi India
According to the latest financial statement released by the company, revenue from sales of mobile phones have gone up by as much as 700% to INR 8,380 crore in FY 16-17. A year ago, its second year in the country, the company clocked sales of INR 1,046 crore. From losses of INR 47 crore in FY 15-16, the company recovered with great assurance and made profits of INR 164 crore in its third year in India.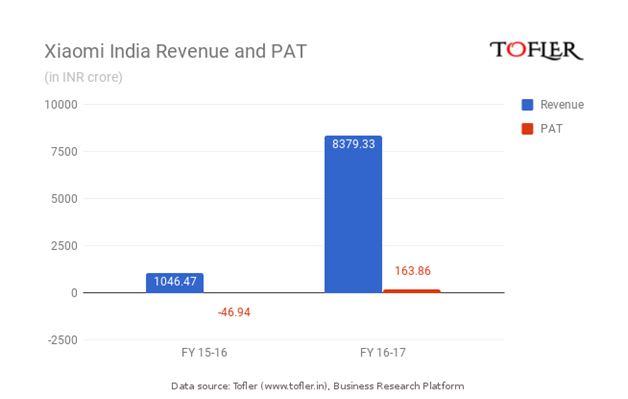 Xiaomi's entire revenue comes from the sales of mobile phones, accessories, spare parts and service. Its revenues from the sale of services for FY 16-17 came to INR 37 crore. Its spectacular performance in the last fiscal year reflects the growing preference for Chinese phones in the country. Xiaomi competitor Oppo Mobiles also saw significant increase in its revenues.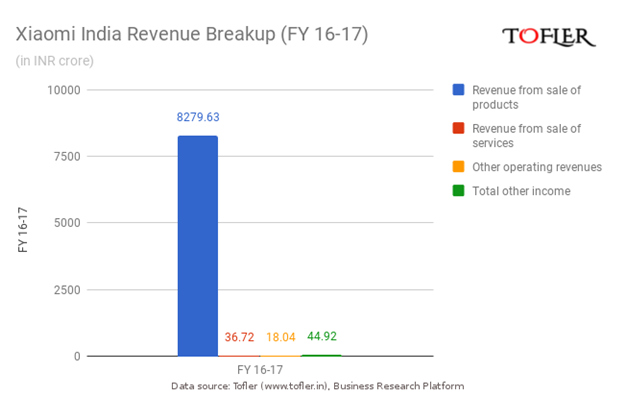 The company also reported expenses of INR 8,150 crore in FY 16-17, a leap of 643% from the previous fiscal year. Xiaomi's expenses come largely from the purchase of its cellular phone parts and finished products. While employee benefit expenses have more or less doubled over the period, the value of purchase of stock-in-trade has gone up by 587% as demands for their products have gone up.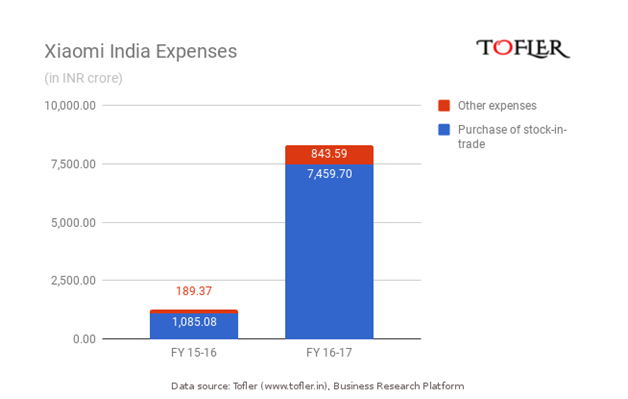 About Xiaomi India
Xiaomi India Technology Pvt. Ltd. was established in Bangalore, Karnataka in 2014, as a subsidiary of Xiaomi Singapore Pte Ltd. India is the Chinese mobile company's second largest market after China. In a short period of time, the brand has managed to establish a strong foothold in the budget smartphone market.
Along with Oppo Mobile, it generated $2 billion sales in India in FY 16-17. The two Chinese companies have overtaken established Japanese company Sony and homegrown Intex and Micromax in the smartphone market. In fact, Chinese smartphone companies have grown from controlling 33% of the market in FY 15-16 to more than half of the market in FY 16-17.
According to experts, Xiaomi has also benefited from its price positioning in the sub-INR 10,000 price band. A large number of Indian consumers are upgrading to the INR 6,000 to INR 10,000 price range. Experts expect the company to grow by as much as 3.5 times its volume in coming years, so it will be interesting to keep an eye on the company in the near future.
(For annual reports, financial statements, company research reports, directors and other financial information on ALL Indian companies, head over to www.tofler.in – Business Research Platform.)
Tofler makes no claim of ownership or affiliation with any trademark / logo (REGISTERED OR UNREGISTERED) used in this article. Trademarks or logos, if any, published on this page belong to their respective owners.