The latest financial statement for Foodpanda, the popular name for Pisces Eservices Pvt Ltd., has reported revenues of INR 62 crore in the last fiscal year. Foodpanda is a food delivery service that operates an app and online portal in 22 countries around the world. It partners with restaurants and allows customers to place orders from local partner restaurants via websites and mobile applications.
Incorporated in

2012

Revenue FY 16-17

INR 62 Cr

Loss FY 16-17

INR 45 Cr
Financial Performance of Foodpanda India
According to the latest financial statement from Foodpanda's Indian subsidiary, total revenues from operating its delivery services in FY 16-17 stood at INR 62 crore. The revenues have seen a 65% jump over the previous fiscal year's revenues of INR 38 crore. The company's revenues are largely made up of commissions from the restaurants that partner with Foodpanda as well as from marketing and advertisement slot sales on its website. A part of the revenue includes E-Commerce IT services. Fifty percent of orders through Foodpanda are fulfilled by the company's own delivery services.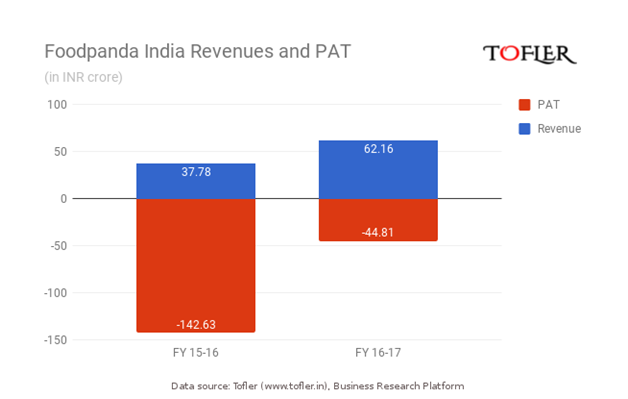 The Profit and Loss statement also reveals losses of INR 45 crore in FY 16-17, which is an improvement over the previous year's losses of INR 143 crore. The narrowing of losses appears to be from the company's efforts to improve technology and delivery services and strong order growth in the fiscal year.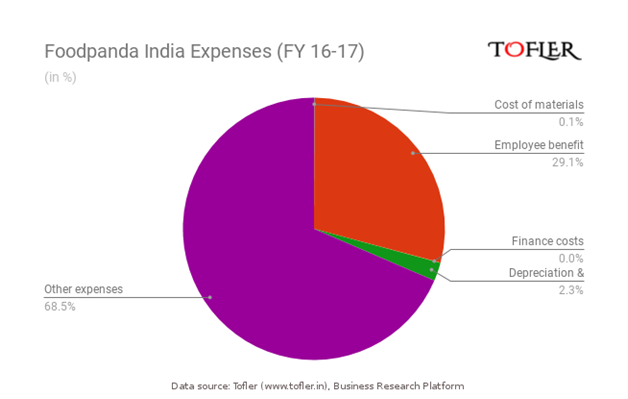 The balance sheet also reports expenses of INR 106 crore over this period, the bulk of which was spent on miscellaneous expenses, advertising promotional expenses and employee benefit expenses. However, total expenses have fallen by 40% from INR 180 in the previous fiscal year.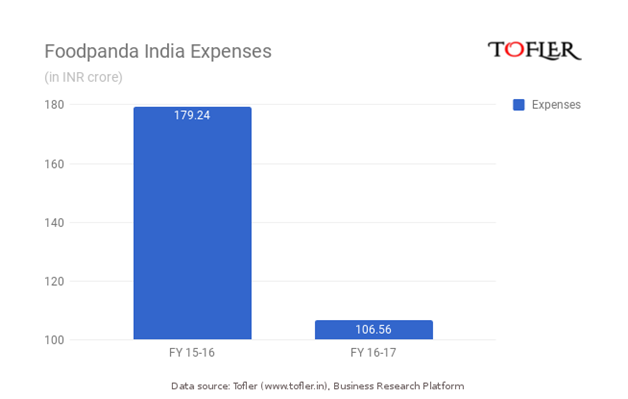 About Foodpanda India
Foodpanda in India was incorporated in 2012 in Gurgaon, Haryana as the subsidiary of the German online food ordering business Delivery Hero that has a presence in 22 countries and territories. Foodpanda's brand value has been floundering since Delivery Hero investor Rocket Internet exited India. Currently, Foodpanda India handles in the ballpark of 30,000 orders a day, in 150 cities. It connects customers with restaurants and processes orders in a fully automated system.
In 2017, the business in India was acquired by cab aggregator Ola for INR 28 crore. Ola followed in the footsteps of US-based Uber, which launched UberEats in the food delivery business. Since then, Foodpandahas tried to differentiate itself from more successful competitors Swiggy and Zomato through events such as its recent virtual food festival What the Eats, offering discounted fare. The company has also launched a tech center in Bengaluru to develop product capabilities, strengthen technology and improve consumer experience. It remains to be seen if Foodpanda India is able to become profitable by 2019, as the management hopes it will.
(For annual reports, financial statements, company research reports, directors and other financial information on Indian companies, head over to www.tofler.in – Business Research Platform.)
Tofler makes no claim of ownership or affiliation with any trademark / logo (REGISTERED OR UNREGISTERED) used in this article. Trademarks or logos, if any, published on this page belong to their respective owners.