Online shopping portal Voonik Technologies has reported revenues of INR 117 crore in the FY 16-17. This online fashion and lifestyle store was first launched as a personal shopping app for mobile platforms. The company seeks to differentiate itself from competitors like Jabong and Myntra by also offering a personalized shopping experience by body type, skin tone, style preference, budget, etc.
Incorporated in

2013

Revenue FY 16-17

INR 117 Cr

Loss FY 16-17

INR 130 Cr 
Financial Performance of Voonik
Voonik has seen revenues skyrocket from INR 18 crore in FY 15-16, by as much as 558.1%, even though it hasn't yet been able to see profits. The fashion e-commerce portal's latest financial statement reports it has more than doubled its losses over the same period. Losses have gone from INR 85 crore in FY 15-16 to INR 130 crore in FY 16-17, an increase of 53.85%.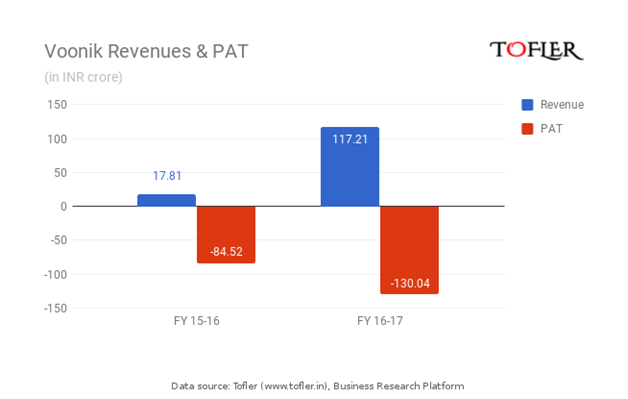 The company's revenues are generated from commissions from sales through a B2B or reseller model. Voonik has over 20,000 sellers on board and charges a 20% commission. In FY 16-17, the company's revenues from the sale of its services alone amounted to INR 115 crore. Revenues from commission stood at INR 52 crore and revenue from shipping charges were INR 63 crore.
The profit and loss statement reveals expenses for the year FY 16-17 was INR 247 crore. While expenses have gone up from INR 102 crore in FY 15-16, there have been efforts to cut down on expenses by the company. The bulk of expenses went to transportation distribution and promotions.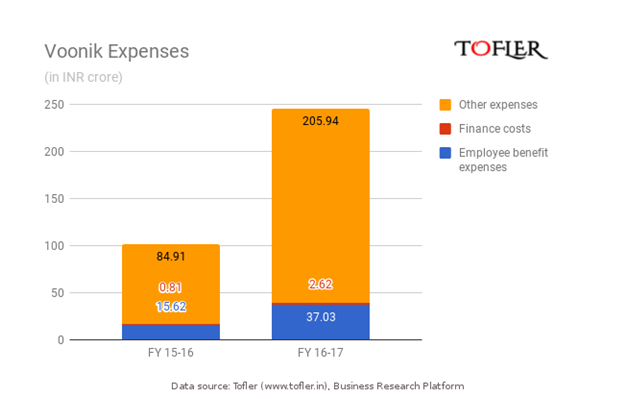 About Voonik
The Bengaluru-based Voonik provides a platform for unbranded fashion retailers to reach women looking for everyday wear. The company's Voonik Primo section offers premium luxury wear. It is operating in a market where competitors like Jabong and Myntra together have a significant market share. However, Voonik is holding its own in the mid-range and value segments in online fashion.
The five-year-old company was affected by demonetization in 2016 as orders fell and shipments were returned because customers didn't have cash to pay. There were heavy cuts on expenses in marketing and shipping, as the company has decided, since January 2017, to focus on profitable growth.
At present, it is working on a lean model with 160 employees. Voonik doesn't hold any inventory and offers no warehouse facilities. Nor does it offer discounts, which makes the business scalable. In 2016, the company raised $20 million from Sequoia Capital. In 2018, the company has plans to focus on growth.
(For annual reports, financial statements, company research reports, directors and other financial information on Indian companies, head over to www.tofler.in – Business Research Platform.)
Tofler makes no claim of ownership or affiliation with any trademark / logo (REGISTERED OR UNREGISTERED) used in this article. Trademarks or logos, if any, published on this page belong to their respective owners.