Online budget hotel space has emerged as a promising new market in India along with the booming travel sector, aided by digitization. This sector aims to help travelers solve the problem of booking budget hotels without compromising on the quality of the stay. A Google-BCG report estimates India's online hotel market to grow to US$4 billion with 31% penetration at a CAGR of 25%. Hotels under budget range and mid scale range are estimated to hold about 52% of the market share.
The drivers of growth of online budget hotel industry
With the startup culture developing in India, the period 2013-2015 saw many new names like OYO, ZO Rooms and Stayzilla jump at this opportunity. Initially, the sector offered wide flexibility in terms of operating models with startups experimenting with the aggregation model, franchise model and manchise model.
The aggregation model is part-inventory where the company takes up a few rooms and standardizes some basic amenities like wi-fi, snacks and beverages, etc. This model was favored by industry leader OYO and soon other new entrants like ZO rooms and Stayzilla followed suit. While the aggregation model allowed companies to scale up rapidly, the part-inventory system does not allow much control over quality which begun to surface as a letdown, resulting in lower customer ratings.
In the franchise model, the company takes full inventory, transforms the property, imparts training to the staff and conducts regular audits to exercise better control over quality. Championed by Treebo, other players like FabHotels and eventually OYO too, adopted the franchise model in 2016. This trend reflects the importance of consistent quality and customer experience are the major drivers of growth in the budget hotel industry.
Other than ruthless focus on delivering quality and customer experience at reasonable prices, the growing importance of digital in travel research, availability of free internet and cheaper smart phones are driving growth in this sector.
Shutdowns leaving more room for the top 3 players
The budget hotel space seemed highly lucrative back in 2015, attracting huge investments from major players. But the cash crunch in 2016 did not make it easy for these startups to sail through. Cut to 2018, only a handful of the initial players have made it through this challenging journey. What seemed as a crowded sector with names like OYO, Hotels Around You, Rooms Tonite and Wud Stay, all vying for a significant market share, has now witnessed consolidations and shutdowns.
Stayzilla, RoomsTonite and HotelsAroundYou are some of the companies that shut down. Low revenue, high operating costs, fund crunch and the inability to raise new rounds of funds led to the winding up of operations. Treebo, FabHotels and OYO have emerged as the top 3 players that have endured the boom and low phases of this evolving industry.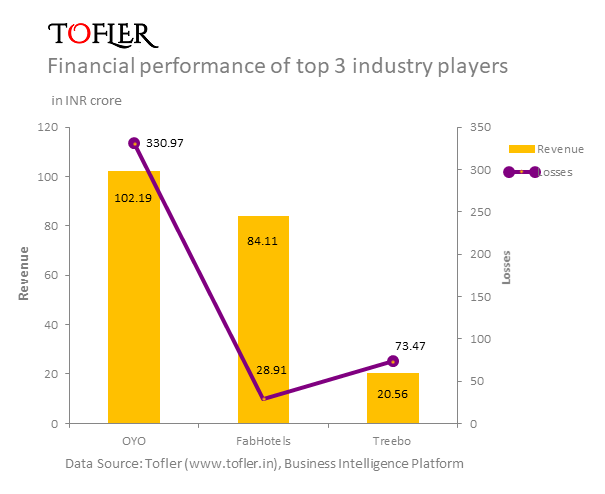 A brief look at the top 3 players in the budget hotel space
OYO
OYO incorporated by Ritesh Agarwal in 2012 has scaled up to 8500+ properties spread across 230 cities, becoming India's largest hotel network. In the FY 16-17, OYO reports revenues of INR 102 crore showing a spike of as much as 210%. But the company is yet to register profits as it has incurred a loss of INR 330 crore in the period. OYO also brought down its expenses from INR 520 crore to INR 430 crore in the same period, by cutting down its marketing expenditure by about 30%. The company has acquired a total funding of $450 million from leading investors like SoftBank, Sequoia, Lightspeed and Venture Partners.
Treebo
The Bengaluru-based Treebo incorporated in 2015 by Siddharth Gupta, Rahul Chaudhary and Kadam Jeet Jain, manages over 400 hotels spanning across 80 cities. The financial statement of the company reports total revenue of INR 20 crore for the FY 16-17. Though the firm has incurred a loss of INR 73 crore during the period, it aims to achieve profitability in about 3 years. Expenses for the period have inclined steeply from INR 27 crore to INR 94 crore in the same period, owing to increase in marketing expenses in accordance with the company's expansion policy. Treebo has pooled in a total funding of $57 million from investors like Ward Ferry, Karst Peak Capital and Bertelsmann India.
FabHotels
Founded in 2014 by Vaibhav Aggarwal, FabHotels operates around 300 properties with the highest room count of 7500 rooms in the budget hotel space. Having earned revenues of INR 85 crore in FY 16-17, the company is yet to turn profitable as it has incurred a loss of INR 28 crore during the financial year. The company's financial statement indicates an upward trend in its marketing expenses inline with the firm's aim to achieve highest domestic room count in the entire hospitality industry. FabHotel's major investors include Goldman Sachs and Accel Partners.
Challenges Ahead
As a newly evolving industry, the Indian online budget hotel space is highly fragmented and remains largely unexplored by international hospitality giants at present. The market share of the top 3 players combined accounts for about 5% of the entire market, which leaves a lot of space for international hospitality giants to explore. While new entrants like ZenRooms, Vista Rooms CoLife and RoomsOnCall have cranked up the competition, OYO, Treebo and FabHotels are in the lead, warring it out for the industry leader tag.