YourStory has reported its latest revenue figures for the FY 2014-15. The company has reported revenue of INR 4.6 crores which grew by 15% over the previous year. However, the company reported a loss of INR 19 lacs as against a profit of INR 52 lacs over the previous fiscal.
The company makes revenue from events, advertorials, royalty from research reports and advertisements. The major expenses for the company was the employee expense, which stood at INR 2.4 crores (51% of the total expenses).
If you have even briefly tracked the 'Start up' world in India, you would have heard about 'Your Story'. While I was strolling through the blog of Your Story, it occurred to me, "What is the story of Your Story"? And you will be amazed by what I found out.
Your Story was founded by Shradha Sharma in 2008. Prior to founding YourStory, Shradha worked with Times of India and CNBC TV18. Somewhere in late 2011 or early 2012, the operations of Your Story were shifted to the company 'Your Story Media Private Limited'. What is commendable is that Your Story Media Private Limited has never closed a year with losses. Here is what its revenue and profits look like: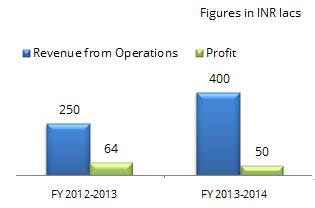 Source - Data has been obtained from Tofler
Your Story earns revenue from ads, sponsorship and registrations received at events hosted by it. Its net profit margin is impressive, though, there is a dramatic decline from FY 2012-13 to FY 2013-14.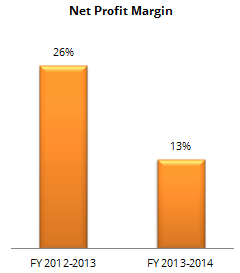 Source - Data has been obtained from Tofler
The other commendable thing is that the whole business is boot-strapped. Your Story has not raised any funds yet. Shradha Sharma still owns nearly 96% of the Company.
I was intrigued by the way 'Your Story' has taken the start up reporting world by storm. I was even more amazed when I saw that unlike the start-ups they cover, they make money while doing it! #Respect
Author – Anchal Agarwal is the co-founder at Tofler.  She is a CA, CS and has more than 5 years experience in Financial research and Company analysis.
Disclaimer – Any trademarks and logos used in this article are property of their respective owners.