We have all heard about start up companies, their valuations and revenues. Snapdeal being one of them, about which, we hear every other day and where our girlfriends shop more often than we hear about it ;)
So Snapdeal revenues have been growing multifold every year. Every Valuation round is a multiple of the last one. But what about its losses? Here is a revenue and loss analysis of Snapdeal for the last two years: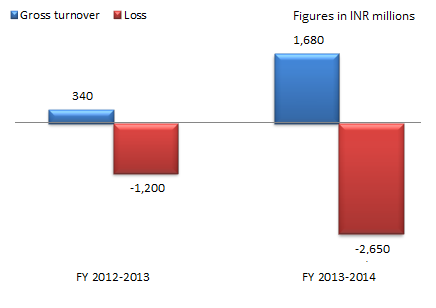 Source: MCA documents obtained from Tofler
Note that the above Revenue is not the value of products sold at Snapdeal (Gross Merchandise Value). It is the commission earned by Snapdeal from the sellers who list and sell their products on Snapdeal.
The good stuff is that revenues have increased 5 times but loss has increased only 2 times. The loss per rupee of revenue earned has also decreased drastically (see the below chart). But, the negative point is that revenue for FY 2012-13 was INR 340 million which is a very small scale to be of any use for benchmarking. And the loss at even a scale of INR 1,680 million is twice the revenue.
Loss per rupee of revenue: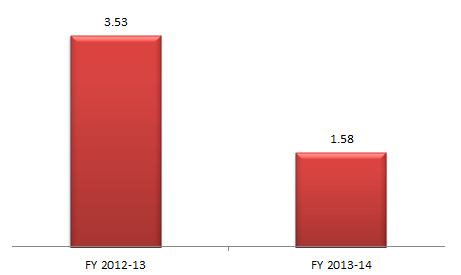 Source: MCA documents obtained from Tofler 
Financial Documents:Access the latest financials of Snapdeal
So, whether Snapdeal and other E-Commerce companies would ever turn profitable? May be the numbers for FY 2014-15 will give a saner picture. While we are waiting for these financials, the debate will go on.

Related posts:
Urban Ladder: A look at its sales, financials and company profile
Yuri Milner's DST Global invests over $200 million in Ola Cabs
Explore Company's network visually