Facebook India reports a revenue of INR 341.85 crore in FY 16-17. The social media giant's presence has grown exponentially in the country in less than a decade.
Incorporated in

2010

Revenue FY 16-17

INR 341.85 Cr

Profit FY 16-17

INR 40.7 Cr
Financial Performance of Facebook India
Facebook India's latest financial statement shows that revenues have gone up by 93% from INR 177 crore in FY 15-16. The profit and loss statement for the same period shows profits have gone up from INR 31 crore to INR 40.7 crore in FY 16-17, which is a jump of 31.3%. Facebook's revenues are earned from business process outsourcing services like advertising on its portal. However, Facebook has 217 million users in India, and its earnings come down to around INR 16 per user. India is Facebook's second largest market outside the US. In India, the company's biggest competition comes from Google, where marketers are spending nearly 70% of advertising budget. But with marketers looking to spread their budget across mobile applications and social media platforms, and Facebook's new programs in India, the status quo is likely to be shaken up.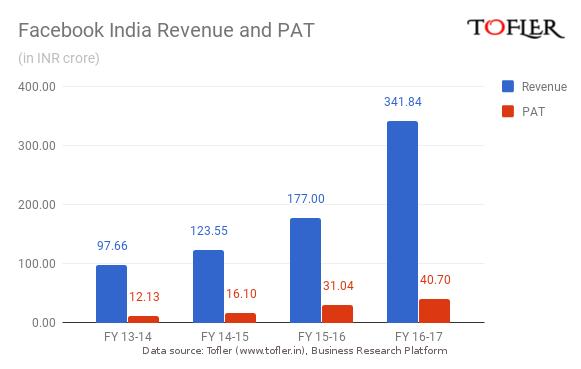 Meanwhile, Facebook's expenses have also nearly doubled (93.59%), from INR 147.49 crore to INR 285.52 crore between FY 15-16 and FY 16-17. The bulk of the company's expenses come from employee benefit expenses.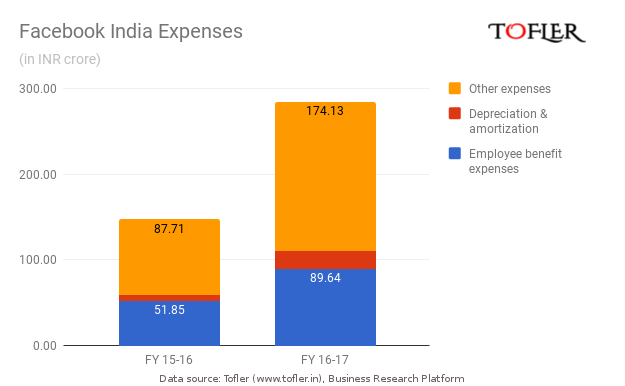 About Facebook India
Facebook India is held by Facebook Singapore Pte Ltd and Facebook Inc., USA, and was incorporated in 2010 with headquarters in Hyderabad. Recently, Facebook has announced several initiatives in the country. One of these is an accelerator program to boost tech innovation in the country, in advanced technologies including VR. Facebook's Free Basics initiative didn't catch on in the country, but that hasn't stopped the company from rolling out new trials like Marketplace, which is competition for homegrown OLX, and Facebook Watch is heading to India early in 2018.
(For annual reports, financial statements, company research reports, directors and other financial information on ALL Indian companies, head over to www.tofler.in – Business Research Platform.)
Tofler makes no claim of ownership or affiliation with any trademark / logo (REGISTERED OR UNREGISTERED) used in this article. Trademarks or logos, if any, published on this page belong to their respective owners.