Bangalore-based e-commerce company Vector E-Commerce reports a total revenue of INR 1217.76 Cr. in FY 16-17. The company is online shopping portal Myntra's largest seller.
Incorporated in

2010

Revenue FY 16-17

INR 1217.76 Cr

Profit FY 16-17

INR 9.33 Cr
Financial Performance of Vector E-Commerce
The latest financial statement of Vector E-Commerce reveals that the company sales has dropped by 30.25% since FY 15-16, from INR 1745.99 crore to INR 1217.76 crore. During the same period, however, the company has picked up its losses of INR 8.72 crore in FY 15-16 to show profits of INR 9.33 crores, according to its profit and loss statement. The company had registered profits in the two financial years prior to the year it suffered losses.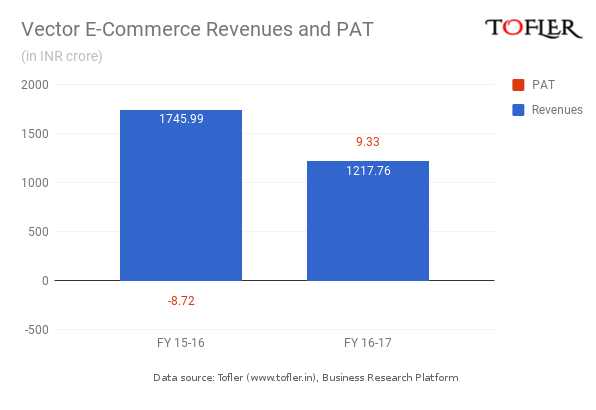 While the total revenues has declined, the other income has increased four times to INR 30.8 crore. This suggests that Vector's operational performance needs strengthening.
The drop in sales is likely due to the new government rider on online portals like Myntra as a condition for 100 percent FDI in their company. No single seller can contribute more than 25% of an online retailer's sales.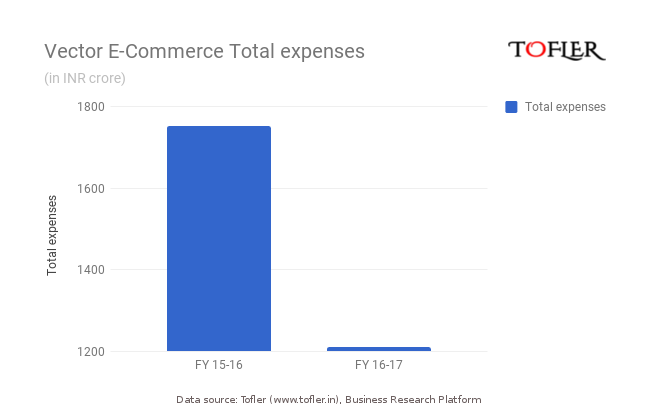 A look at the company's balance sheet shows operational expenses have down from the INR 1753.51 crore in INR 15-16 to INR 1210.45 crore, which is a 30.96% drop in expenses. The bulk of the company's expenses come from purchases of stock-in-trade. Employee benefit expenses have dropped to INR 99.2 crore, which is a 10.5% drop.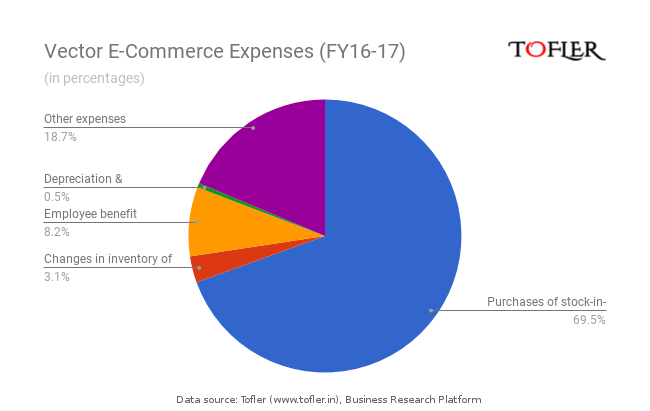 About Vector E-Commerce
Vector E-Commerce was founded in 2010 in Bangalore and has grown to become Myntra's largest seller, similar to Amazon's Cloudtail and Flipkart's WS Retail. The company's business is still expanding and they have scaling up operations since 2015, initiating tie-ups with more private brands to improve bottomline. The new FDI rules may have slowed down business as Myntra tries to give smaller players a bigger share of the sales, as Myntra has added three new sellers Tech Connect Retail, Health and Happiness and Shreyash Retail on its platform. Other companies like Amazon and Flipkart have also been taking steps to reduce their dependence on a single seller. Myntra has also reportedly moved some Vector employees to Myntra Designs. It remains to be seen where Vector, which once contributed nearly 80% to Myntra's sales, is headed.
(For annual reports, financial statements, company research reports, directors and other financial information on ALL Indian companies, head over to www.tofler.in – Business Research Platform.)
Tofler makes no claim of ownership or affiliation with any trademark / logo (REGISTERED OR UNREGISTERED) used in this article. Trademarks or logos, if any, published on this page belong to their respective owners.