Pepper Tap is an on-demand grocery delivery service based in Gurgaon, India. It is owned and operated by Nuvo Logistics Private Limited and was incorporated in August 2013. Nuvo Logistics also owns and operates Nuvo Ex which provides reverse logistics services to e-commerce players.

Incorporated in

2013

Revenue FY 14-15

INR 19.6 Cr

PAT FY 14-15

INR 87 lacs 

Funds Raised

 INR 295 Cr

Financial Performance
The company reported a total revenue of INR 19.5 crores in FY 14-15 with a net profit of INR 87 lacs. This was only their second year of operation. In FY 13-14, the company had registered a total revenue of INR 61 lacs with net loss of 41 lacs.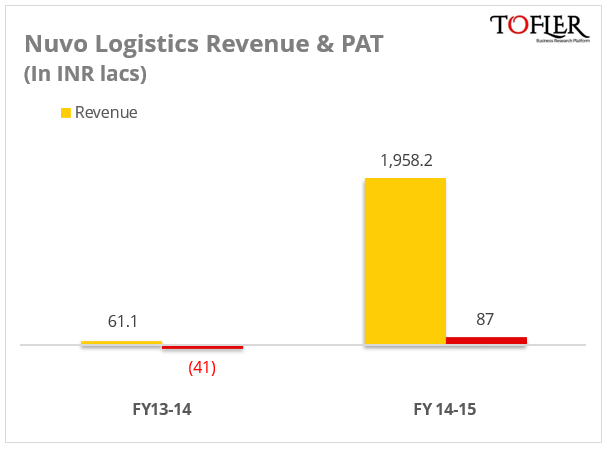 All of their revenue from operations is recognized from sale of services. Almost all of it is reported as 'Courier Service fees' with a miniscule amount reported as 'Platform and logistic services'. A major proportion of this revenue must be attributable to Nuvo Ex since PepperTap had not started its operations before November 2014.
In comparison, Grofers (one of its biggest competitor) had reported a revenue of INR 86 lacs with a loss of INR 4 crores in the same period. Another competitor Zop Now, which operates on an inventory based model, reported a revenue (all of it from sale of goods) of INR 8.8 crores with a net loss of INR 3.7 crores in the same period. Big Basket is another major competitor of PepperTap in this space and are yet to release their numbers.
Out of a total expenses of INR 18.4 Cr in FY 14-15, almost half of it was incurred on Employee benefit. Transportation and handling charges accounted for 21% of their total expense. Surprisingly, marketing and business promotion expense remained low at less than 4% of total expenses.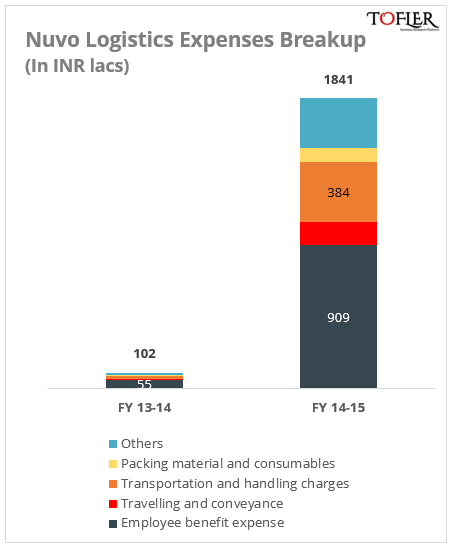 Founders
Nuvo Logistics started as a logistics e-commerce company. It was founded by Navneet Singh and Milind Sharma, both of them working with Delhivery prior to founding Nuvo. They started operations with Nuvo Ex, which provides reverse logistics services to e-com players and later conceptualized PepperTap and launched its operations in November 2014. Nuvo Ex is still operational.
Funding
First institutional investment in the company came from Sequoia Capital in December 2014 (nearly 1.5 years after company formation), followed shortly by SAIF Partners. Snapdeal (an e-commerce company) is also heavily invested into the company. Following is a summary of their major funding rounds so far:
[table id=12 /]
Although it belongs to the newer crop of players, PepperTap has emerged as one of the front-runners in the space of online groceries delivery. They had added features like number disguising and order modification on their app few months back and acquired Jiffstore, a Bangalore based grocery hyperlocal delivery startup last month.
While the industry is trying to figure out the better model out of inventory based model and the marketplace hyperlocal model, giants like Ola, Flipkart, Amazon and PayTM are also beginning to delve into the space. In a very recent development, Grofers recently shut their operations in 9 Tier-2 cities saying that smaller cities are not ready for hyperlocal business yet.
---
For Annual Reports, Balance Sheets, Profit & Loss, Company Research Reports, directors and other financial information on ALL Indian Companies, head over to www.tofler.in – Business Research Platform.
---
This article was originally published here by Team Tofler.
Author– Vishal, a Sci-fi enthusiast, engineer by mistake and writer by choice, combines his eye for numbers with a natural flair for storytelling to churn out Tofler's blogs.
Editor –  Anchal, co-founder at Tofler, is a CA, CS and has more than 5 years experience in company analysis. She likes to explore and track companies, their performance and senior management.
---
Tofler makes no claim of ownership or affiliation with any trademark / logo (REGISTERED OR UNREGISTERED) used in this article. Trademarks or logos, if any, published on this page belong to their respective owners.