Foodpanda (Pisces eServices Private Limited) has reported its latest revenue figures for FY 14-15. The company earned a revenue of INR 4.7 crores in FY 14-15 compared to INR 69 lacs the previous fiscal (580% growth in revenues). The losses grew 5 times from INR 7 crores to INR 36 crores in the same period.

Incorporated in

2012

Revenue FY 14-15

INR 4.7 Cr

Loss FY 14-15

INR 36 Cr

Funds Raised

110 Cr
Financial Performance
The revenue from operations stood at INR 4.6 crores. This includes 'Commission from restaurants (98%), 'Income from Marketing' (1.1%) and 'Income from Registration' (0.9%). Following chart depicts their year on year Revenue from PAT since inception.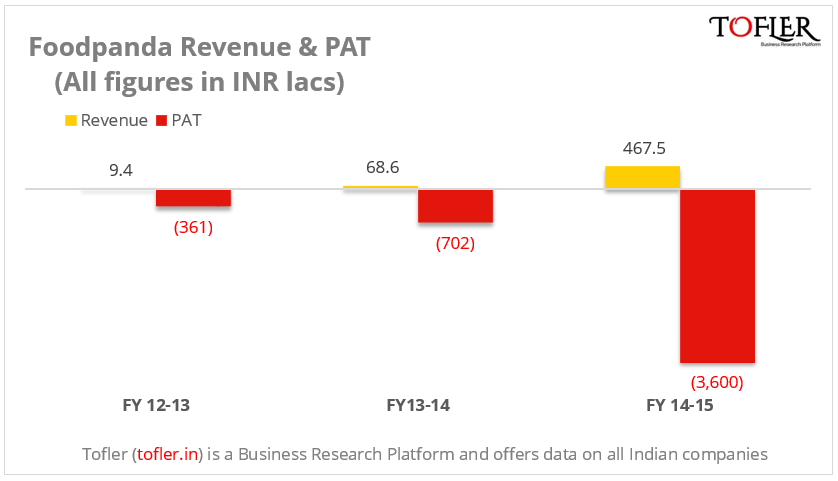 The expenses for the company were INR 41 crores in FY 15 (INR 7.7 crores in FY 14). The loss for the year stood at INR 36 crores, whereas the accumulated losses over the three year stood at INR 47 crores. The accumulated losses have eroded the net worth of the company. The net worth as on 31st March, 2015 was a negative of 2.7 crore rupees. After March 2015, the parent company has infused around INR 66 crores of funds in the company.
The major expense for the company was 'TV and Radio Advertisement' expense, which stood at INR 18 crores (44% of the total expenses). This particular expense and a lot of other apparent discrepancies were discussed in detail in this article by Mint. Other major expenses were 'Discount Voucher' expense at INR 8.3 crores (20% of expenses) and employee expenses at INR 6.4 crores (16% of expenses). Following is a breakup of the expenses.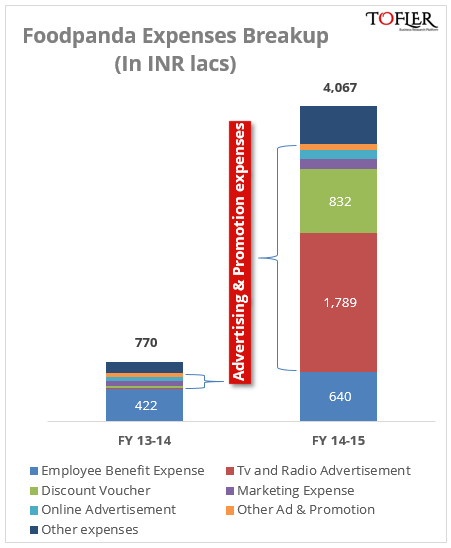 Interestingly, by the financial year end, Foodpanda identified some of the much talked about "certain case of restaurants which were non-existing or which were misusing the company's discount vouchers by generating fake orders" (as mentioned in their Auditor's report). The company puts the loss due to these frauds at INR 7.6 lacs and calls it "not material in comparison to the scale of operation of the company". This loss is shown under the expense head of 'Discount Voucher'.
Food-tech scenario in India
The following graph benchmarks Foodpanda revenue and losses against some of its major competitors in the food tech industry.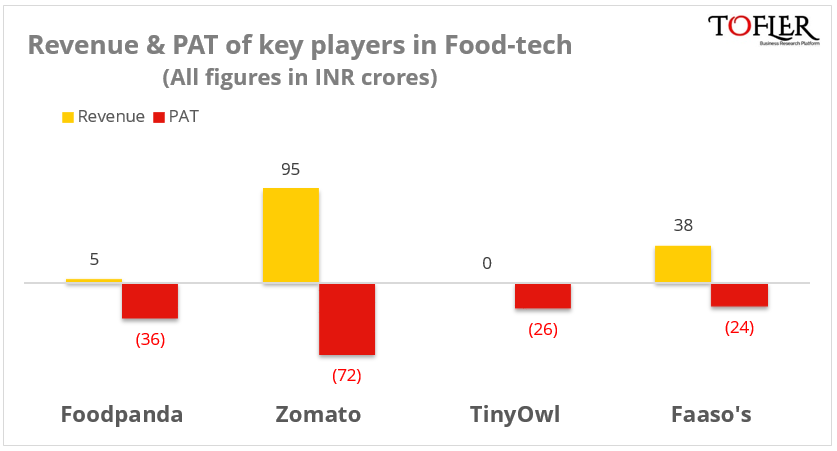 While Faaso's (2010) and Zomato (2010) have been around for more than 5 years, Foodpanda (2012), TinyOwl  (2014), Swiggy (2013) are relatively newer players. Foodpanda claims to be present in 100+ cities compared to Zomato in 10,000 cities (across 23 countries, however, primarily it is a restaurant discovery platform), Faaso's in 10 cities, Swiggy in 8 cities and TinyOwl in 6 cities.
Food-tech has been a heavily funded sector so far and almost all key players have raised multiple rounds of funding. Following chart illustrates the funding of key players (estimated from documents filed with the Registrar of Companies) in the sector so far.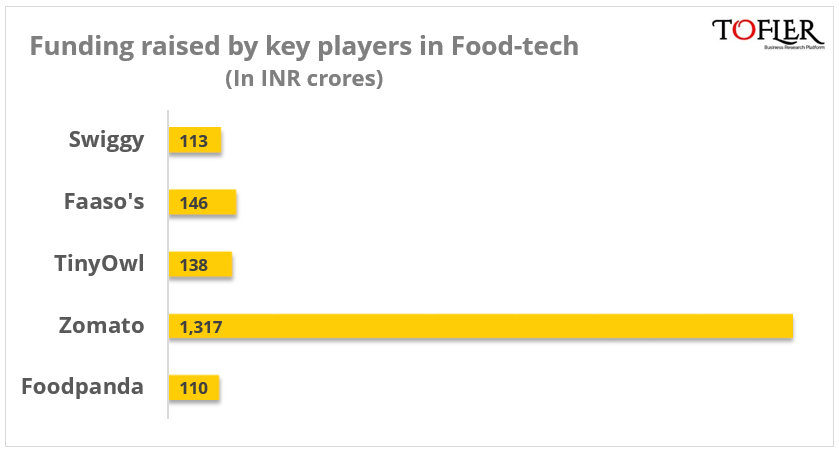 Of late, Foodpanda has been delving into several new service offerings such as corporate food ordering service and food delivery on trains with irctc. Zomato launched its food ordering app this year, which directly competes with Foodpanda's business. However, Zomato has an edge over its competition due of its long presence and a deep penetration in the market through its restaurant listing business. Competing with Zomato and other upcoming players and apparently having a lot to fix at home, Foodpanda seems to be in for a tough ride ahead.
---
This article was originally published here by Team Tofler.
Author– Vishal, a Sci-fi enthusiast, engineer by mistake and writer by choice, combines his eye for numbers with a natural flair for storytelling to churn out Tofler's blogs.
Editor –  Anchal, founder at Tofler, is a CA, CS and has more than 5 years experience in company analysis. She likes to explore and track companies, their performance and senior management.
---