Apple India has reported revenue of INR 9997 crores in FY 15-16 with 80% of it coming from sale of iPad, iPod Touch, iPhone and Apple Watch.
Incorporated in

1996

Revenue FY 15-16

INR 9997 Cr

Profit FY 15-16

INR 294 Cr 

Revenue Growth

 54%
It is the season to be jolly for the Apple fraternity with a flurry of new launches under its wing, namely the latest iPhone 7 and 7 Plus, the new MacBook Pro, Watch Series 2, AirPods and the upcoming Apple TV.
Financial Performance of Apple India
Its Indian subsidiary, Apple India Private Limited has reported a 54% hike in its Total Revenues for the FY ended 31 Mar 2016 (INR 9,997 Crores from INR 6,473 Crores for the FY ended 31 Mar 2015) and ~21% increase in Profit After Taxes (INR 294 Crores for FY16 from INR 243 Crores in FY15). Apple India Private Limited is a wholly owned subsidiary of Apple Operations International
(IRELAND).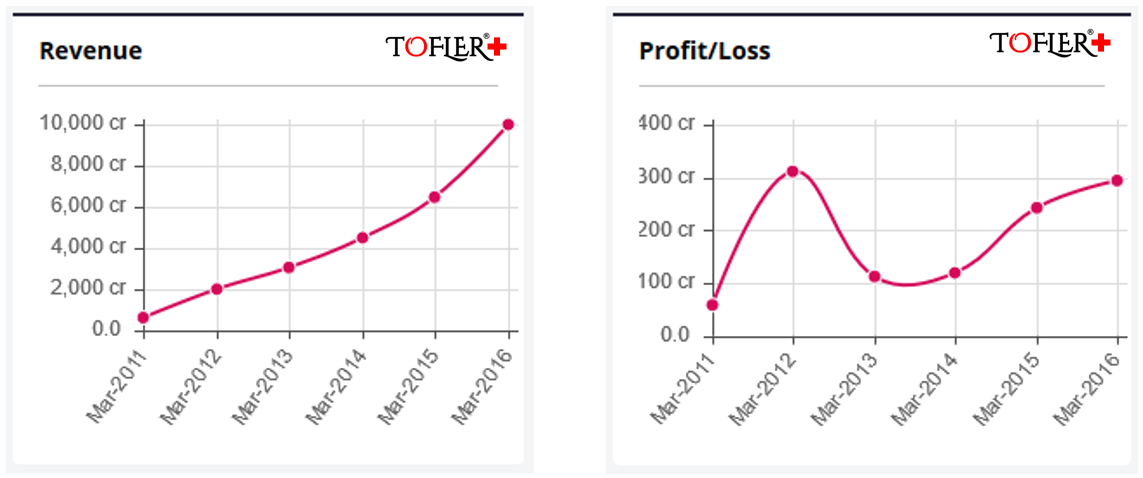 Apple India recognizes almost all of its revenue from sale of its products (Sale of traded goods).
The Company broadly classifies its products as:
iOS: iPad, iPod Touch, iPhone and Apple Watch
Non iOS: Apple TV, iPod (Shuffle, Classic, Nano), Displays, Computers, all other accessories, and Services
iOS contributes to nearly 80% of the company's total revenue with non-iOS accounting for the remaining 20%.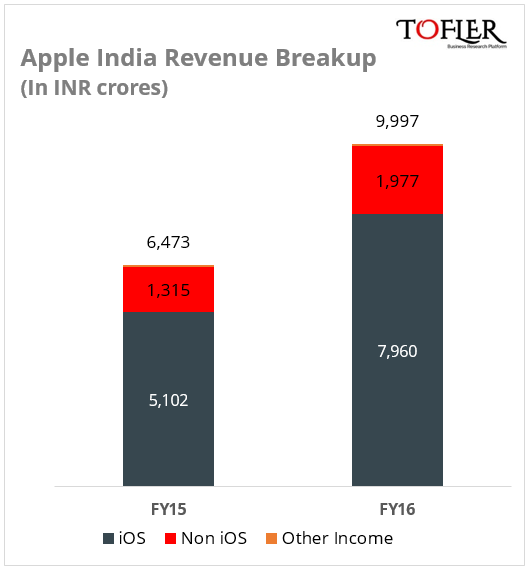 Largest chunk (~86%) of the company's expenses fall under 'Purchase of stock-in trade' and understandably so. Employee benefit expenses increased to INR 85 Crores in FY16 from INR 68 Crores in FY15. 'Advertising promotional expenses' nearly doubled to INR 140 Crores from INR 74 Crores as did 'Warranty claim expenses', from INR 283 Crores to INR 513 Crores.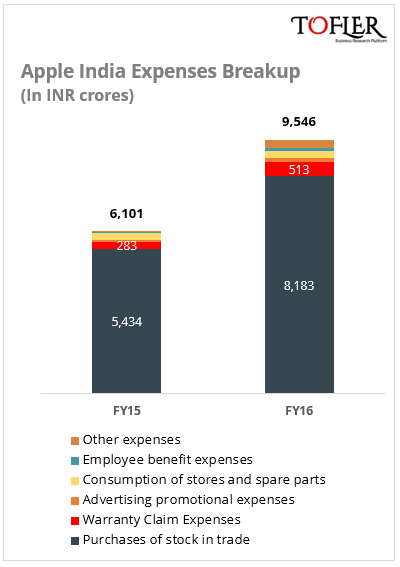 The company's Reserves and Surpluses stood at a total of INR 1,264 Crores at the end of FY16, which resulted in a healthy RoE rate of about 26% for its net Profit of INR 294.3 Crores; slightly less than last year's 29%.
Apple's global operating segments are divided into five heads namely Americas, Europe, Greater China, Japan and Rest of Asia Pacific. India is categorized under the European segment that has seen a substantial increase in the sales of iPhones, but a general decline in net sales as a direct result of the weakening of foreign currencies in relation to the US Dollar. Having said that, Apple is all set to soon start manufacturing iPhones in Bengaluru.
About the Company
Apple India Private Limited is a wholly owned subsidiary of Apple Operations International that is a subsidiary of the ultimate parent company, Apple Inc. The Company was incorporated in India on 19 January 1996. It engages in the trade of various Apple products such as mobile communications, personal computers, media devices, portable digital music players and related software and peripherals. The Company also provides marketing and related services for Apple products and software as well as maintenance services for the products sold. It broadly classifies its products into iOS and non iOS categories.
---
Explore this company in detail in Tofler+. Get access to all RoC documents, financials, shareholder returns, funding rounds, management details, bank loans, litigation, credit ratings, defaulter lists, group structure and more. FAQs on Tofler+.
---
For Annual Reports, Balance Sheets, Profit & Loss, Company Research Reports, directors and other financial information on ALL Indian Companies, head over to www.tofler.in – Business Research Platform.
---
Tofler makes no claim of ownership or affiliation with any trademark / logo (REGISTERED OR UNREGISTERED) used in this article. Trademarks or logos, if any, published on this page belong to their respective owners.