The oldest method of providing food to human society is agriculture. Agriculture has seen significant change during the past 30 years thanks to human evolution. New agricultural methods and techniques emerged as a result of new technology, highly advanced R&D facilities, and equipment.  One of the most agriculturally productive nations in the world is India. The seed is also one of the most crucial components of agriculture. The quality of the seed determines the plant's health. High-quality seeds are prepared by numerous businesses in India. A component of plant reproduction is the development of seeds. Today there are many major seed companies in India that are leading the market; this article will further provide more information on the same.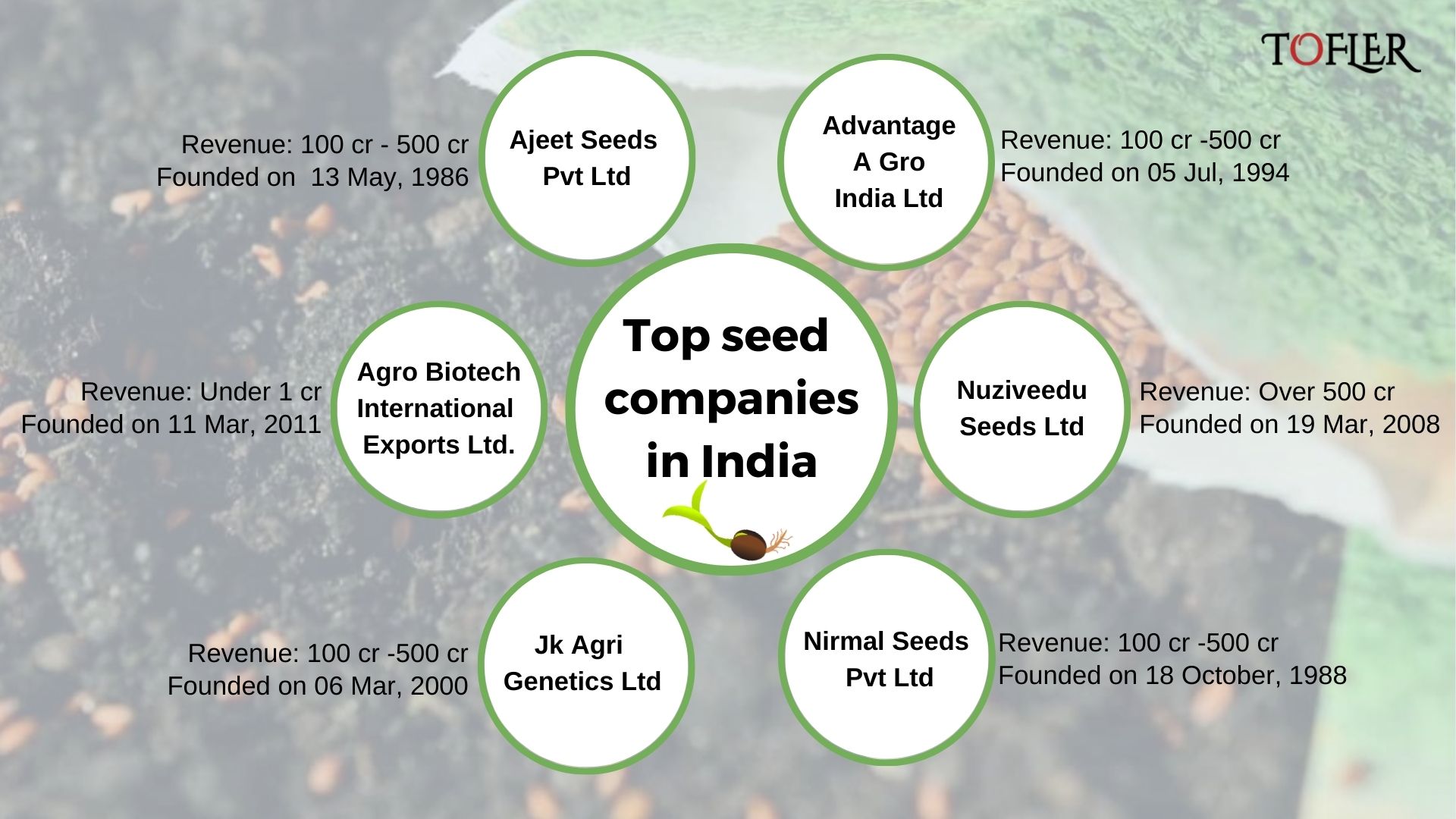 The seed-producing business Advanta India Limited was founded in Mumbai in 1994. The UPL Group Companies, a multinational agrochemical manufacturer with headquarters in India, owns the business. It is regarded as one of the top seed companies in India. Many nations are recipients of Advanta's seed shipments. The business has more than 60 years of expertise in the agricultural industry and dominates the markets for grains including sorghum, forages, maize, sunflower, canola, and rice, as well as many different vegetables.
The company operates more than 18 R&D facilities worldwide. It works tirelessly to give farmers high-quality seeds so they can increase their harvests and their income.
One of the top seed companies in India called Ajeet Seeds Pvt. Ltd. was founded in Aurangabad, Maharashtra, in 1986. The company creates hybrid seeds for several kinds of vegetables, cotton and oil, and pulses. It continues to work on the Research and Development of many other hybrid seeds for the Indian agricultural community. It has more than 22 crops and 55 high-quality hybrid seed products.
The business operates a Dr. Babasaheb Ambedkar Marathwada University-approved research and development facility at Hanumantgaon, Taluka Gangapur. The corporation estimates that its yearly income is between 250 and 500 crores.\
Agro Biotech International Exports Pvt. Ltd. is one of the multi-national seed companies in India founded in Kerala in 2010. The corporation meets both domestic and international seed standards while also producing agricultural, spice, and herbal items. As a result of having a direct sales network with farmers and manufacturers, they have been able to maintain a good balance between price, quality, and quick delivery. Due to the company's numerous R&D facilities in India, every parameter is examined before the items are released onto the market.
Most of the time, the corporation doesn't make its own items. Manufacturers and buyers now have a place where they can easily close deals for a fair price and good quality.
In 1989, JK Agri Genetics Limited was founded in India to produce hybrid seeds. Today it is regarded as one of the top seed companies in India. The business creates hybrid seeds for crops like millet, rice, jowa, cotton, vegetables, maize, etc. as well as other plant-nutritional goods. In addition to Andhra Pradesh, Karnataka, Telangana, Gujarat, Bihar, Maharashtra, Tamil Nadu, Rajasthan, Madhya Pradesh, and Odisha, the corporation also has highly developed R&D facilities in these states. Additionally, it sends premium hybrid seeds outside to other nations.
The business has a Department of Science & Technology, Government of India-certified research and development facility in Telangana's Ranga Reddy District. The company's typical annual turnover, according to the research, is around 220 cr, and it rises 20% to 50% on a yearly basis.
Andhra Pradesh, which has seven different agro-climatic zones, is one of the top seed-producing States in the nation. A robust core crop can now be produced at relatively lower prices with higher yields per unit because of the vast network of seed growers spread out across the state with a rich tradition of seed production and varietal advancements. The AP State Seeds Development Corporation Limited was founded on March 26, 1976, with the goals of consolidating and enhancing the state's quality seed production as well as successfully implementing the National Seed Project in Andhra Pradesh. One of the top 10 seed companies in India is this one.
One of the leading seed companies in India is Kalash Seeds Pvt Ltd. The company is one of India's top 5 seed producers. In a number of industries, such as broccoli, beets, onions, muskmelon, and beets, the corporation has attained leadership.
Nirmal Seeds Limited was founded in 1988, and includes a technological centre for research and development devoted to the development of seeds. The Ministry of Science, the Department of Scientific and Industrial Research, and the Government of India have all given their approval for this R&D facility. This produces over 35 different crops, including 135 hybrid kinds, primarily for vegetables and other commodities.
Its headquarters are in Noida, Delhi, India, where it was established in 1980. They collaborate with a different primary plant in Surat, Gujarat, to develop hybrid seeds. They also make bio-fertilizers, urea, ammonia, argon, and other things.
Mahyco has its headquarters in Maharashtra, which was established in 1964. This business manufactures premium seeds for crops like maize oil, wheat, sorghum, cotton, and pearl millet.
With its main office in Hyderabad, India, it was established in 1973. This company creates premium hybrid seeds for use in a range of crops, including fruits and vegetables.
Explore Company360 subscription plans to know your vendors, competitors, and clients.