Big Bazaar is one of the largest retail chains in India and is owned by Future Group. The company was founded in 2001 and has since grown to become one of the most successful retail chains in India. Big Bazaar offers a wide range of products at affordable prices and has become a household name in India. The company has been able to achieve this success by focusing on customer satisfaction and by offering products that are tailored to the needs of the Indian consumer.
Big Bazaar has been able to create a unique shopping experience for its customers by offering a wide range of products under one roof. The company has also been able to leverage technology to improve the shopping experience for its customers. Big Bazaar has been able to achieve this success by focusing on customer satisfaction and by offering products that are tailored to the needs of the Indian consumer.
| | |
| --- | --- |
| Founder | Kishore Biyani |
| Founded | 2001 |
| Headquarters | Mumbai, Maharashtra, India |
| Website | bigbazaar.com |
In a significant move during February 2022, Reliance Industries assumed control of more than 200 Future Group stores, propelling the transformation of Big Bazaar into the newly rebranded 'Reliance Smart Bazaar Stores.
Founder of future group:
Kishore Biyani, an illustrious Indian businessman, is widely recognized as the Founder and CEO of Future Group, he completed his graduation from HR College, Biyani obtained a B.Com degree. However, his true passion lay in entrepreneurship and trade, rather than academic pursuits. At the young age of 22, he delved into the world of business by venturing into the production of trousers. His journey began with Bansi Silk Mills before he eventually set up his own enterprise in 1983. The new venture involved commissioning the manufacturing of fashionable fabrics for garment makers.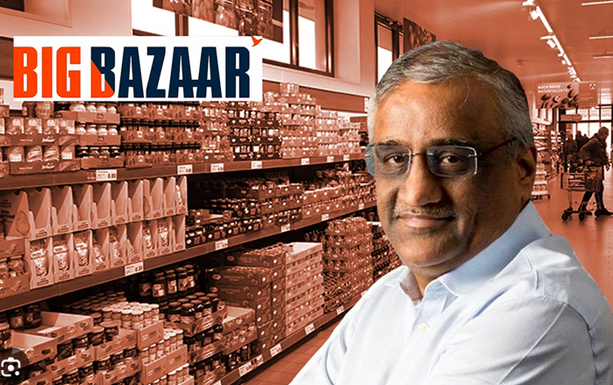 It was during this phase that Biyani introduced his own brand called "WBB," representing the three primary colors of fabric used for men's trousers: white, brown, and blue. This laid the foundation for his iconic brand "Pantaloons," aptly named after the Hindi word "patloon," meaning trousers. Pantaloons rapidly gained popularity and achieved immense success.
Building on the triumph of Pantaloons, Biyani's vision expanded, culminating in the launch of "Big Bazaar" under the Future Group umbrella. With its inception, Biyani solidified his status as the undisputed retail king of India.
However, Kishore Biyani's ventures were not confined solely to the retail world. Alongside his business pursuits, he also explored the realms of filmmaking. Although his efforts in this domain did not yield the desired outcomes, they reflect his adventurous and creative spirit.
Factors that have contributed to Big Bazaar's success:
In the world of Indian retail, success stories don't come bigger than that of Big Bazaar. What started as a small retail store in a nondescript neighborhood has grown into one of India's largest and most successful retail chains. This blog explores the remarkable journey of Big Bazaar and the factors that have contributed to its unparalleled success.
A Visionary's Dream: The Big Bazaar success story began in the early 2000s when visionary entrepreneur Kishore Biyani saw the potential for organized retail in India. He envisioned a store that catered to the needs of the common people, offering a wide range of products at affordable prices. With this vision in mind, he set out to create something revolutionary in the retail landscape.
The Concept of Hypermarket: One of the key factors that set Big Bazaar apart was its introduction of the hypermarket format in India. By combining a supermarket, department store, and specialty outlets under one roof, Big Bazaar redefined the shopping experience for Indian consumers, offering convenience like never before.
Understanding the Indian Consumer: Big Bazaar's success can also be attributed to its deep understanding of the Indian consumer. The brand recognized the diverse needs and preferences of Indian shoppers and tailored its offerings to cater to different demographics and income groups, making it accessible to all.
Unbeatable Value Proposition: From its inception, Big Bazaar focused on providing unbeatable value to its customers. Through bulk purchasing and efficient supply chain management, the brand offered significant cost savings, translating into competitive pricing for customers.
Innovative Marketing Strategies: Big Bazaar's marketing strategies have been nothing short of ingenious. From the famous 'Sabse Sasta Din' (Cheapest Day) campaigns to the unique 'Wednesday Bazaar' offers, the brand created excitement and buzz around its promotions, attracting hordes of eager shoppers.
Embracing Technology: As the retail landscape evolved, Big Bazaar embraced technology to enhance its operations and customer experience. The introduction of online shopping, mobile apps, and loyalty programs further strengthened its position as a market leader.
Community Engagement and CSR: Beyond just business, Big Bazaar has always believed in giving back to society. The brand actively engages in various community development initiatives and corporate social responsibility (CSR) projects, earning goodwill and loyalty from customers.
Expanding Horizons: Big Bazaar's success was not limited to one region. The brand strategically expanded its footprint across India, penetrating both metro cities and smaller towns. This pan-India presence further cemented its position as a household name.
The success story of Big Bazaar serves as a beacon of inspiration for aspiring entrepreneurs and business leaders. It exemplifies the power of a visionary idea, understanding the target audience, and staying adaptable in a dynamic market. Big Bazaar's journey from a modest store to a retail giant is a testament to the fact that with the right strategy, dedication, and customer-centric approach, even the loftiest of dreams can be realized.