Yatra.com, one of India's leading Online Travel Agencies, reported a 40% rise in its revenue figures in FY 14-15. Its revenue stood at INR 263 crores.
Incorporated in

2006

Revenue FY 14-15

INR 263 Cr

Loss FY 14-15

INR 67 Cr 

Funds Raised*

 INR 520 Cr
*since October, 2010.
About Yatra.com
Yatra.com is owned and operated by Yatra Online Private Limited. Founded in 2006, it is an online consolidator of travel products including flights, hotel, trains, buses and cruises as well as holiday and trade fair packages. The company claims to have more than 50,176 hotels in India and over 500,000 hotels around the world. It also boasts of doing 20,000 domestic tickets and 7500 hotels and holiday packages a day. Yatra.com provides its services through website, mobile WAP site and mobile applications, 24×7 multi-lingual call centre, a countrywide network of Holiday Lounges and Yatra Travel Express stores. Yatra.com competes aggressively with MakeMyTrip, GoIbibo, Cleartrip, Expedia, Musafir.com in the OTA industry.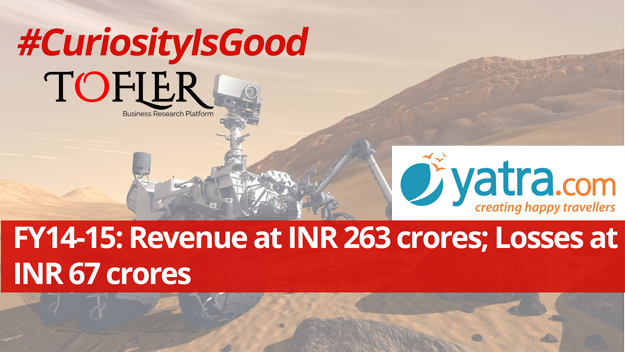 Financial Performance of Yatra.com
Yatra.com reported revenue of INR 263 crores against a loss of INR 67 crores in FY 14-15. The revenue and loss figures for the previous fiscal were INR 190 crores and INR 40 crores, respectively. This is a 67% increase in the loss figure over the previous fiscal and the company is yet to break even.
In comparison, its competitors Cleartrip and Ibibo had reported a revenue of INR 192 crores and INR 234 crores in the same period.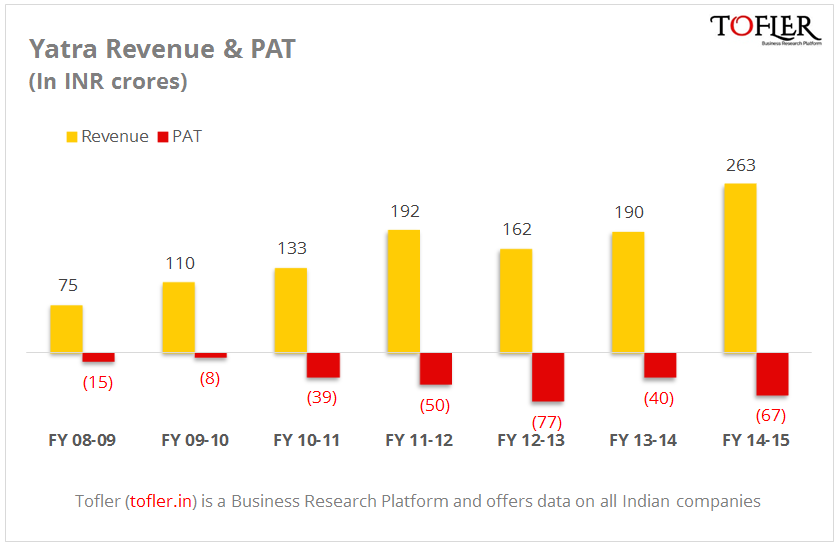 The Company provides travel products and services to leisure and corporate travelers in India and abroad. Other revenue primarily consists of advertising revenue, income from sale of rail and bus tickets and fees for facilitating website access to a travel insurance company. Two-thirds of the revenue comes from the flight booking services. The hotel and packages saw a 64% increase over the previous fiscal. Following is a break-up of the revenue in FY 14-15: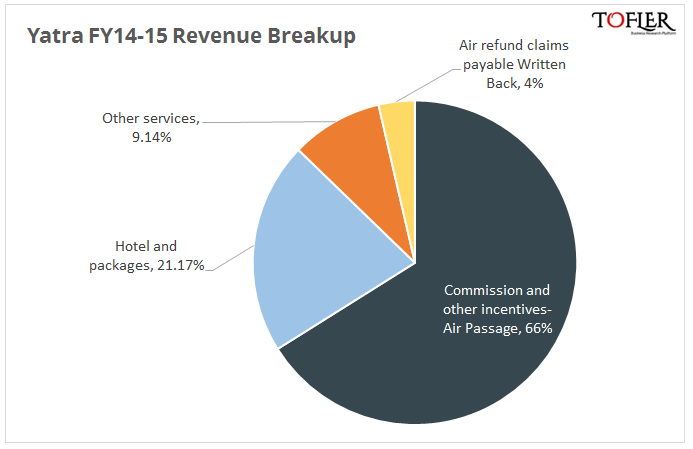 The biggest expense for the company was the advertising and promotional expense which stood at INR 140 crores (40% of the total expenses). The following is a break-up of the major expenses: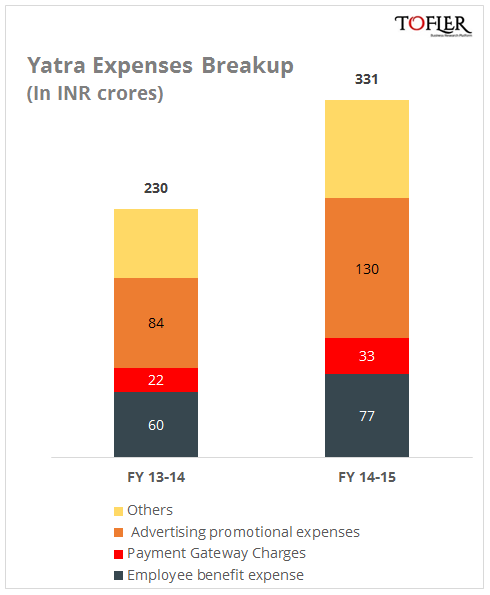 Funding
The company has raised funding of INR 520 crores since October 2010. The list of investors includes Reliance, Asia Consolidated DMC, IL&FS among others. Out of this, INR 122 crores were raised in FY 15-16.
Benchmarking
Here is how Yatra fares in comparison to the major players in OTA industry. The FY 14-15 figures for MakeMyTrip are currently unavailable but it was the market leader in FY 13-14 with a revenue of INR 1340 crores.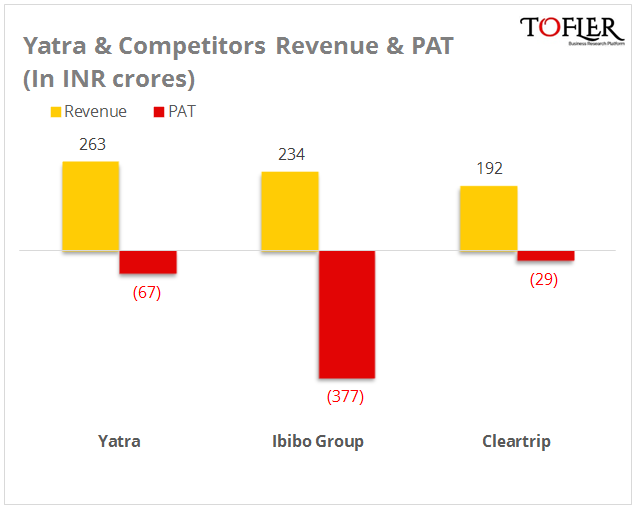 Among its key acquisitions are ticket consolidator Travel Services International (TSI) in October 2010, global distribution system (GDS) provider MagicRooms.in, and Indian events and entertainment portal BuzzInTown.com in July 2012. Recently, it acqui-hired Travel-logs, in January this year, to boost tours within city. It also acquired 100% stake in Travelguru.com in 2012.
Recently the company launched TG Rooms to take on the likes of OYO and Zo rooms in the budget rooms segment, and claims to have the largest inventory of hotels and accommodations in India with over 40,000 stay options across over 1100 cities.
---
For Annual Reports, Balance Sheets, Profit & Loss, Company Research Reports, directors and other financial information on ALL Indian Companies, head over to www.tofler.in – Business Research Platform.
---
This article was originally published here by Team Tofler.
Author– Vishal, a Sci-fi enthusiast, engineer by mistake and writer by choice, combines his eye for numbers with a natural flair for storytelling to churn out Tofler's blogs.
Editor –  Anchal, co-founder at Tofler, is a CA, CS and has more than 5 years experience in company analysis. She likes to explore and track companies, their performance and senior management.
---
Tofler makes no claim of ownership or affiliation with any trademark / logo (REGISTERED OR UNREGISTERED) used in this article. Trademarks or logos, if any, published on this page belong to their respective owners.