Snapdeal, the second largest player in the Indian e-commerce industry, has reported a revenue of INR 938 crores with a loss of INR 1,319 crores in FY 14-15. Snapdeal is fighting it out in the Indian e-commerce sector with home grown Flipkart, which is currently the leader, and US e-com giant Amazon who entered the India market in 2013.
Incorporated in

2007

Revenue FY 14-15

INR 938 Cr

Loss FY 14-15

INR 1319 Cr 

Funds Raised

 INR 10,492 Cr
FINANCIAL PERFORMANCE
Jasper Infotech Private Limited, which owns and operates Snapdeal, reported its revenue at INR 938 crores out of which INR 766 crores is the revenue from operations. This is a 450% growth in the revenue from INR 168 crores (INR 154 crores from operations) last fiscal. Loss reported against this revenue is a staggering INR 1319 crores which is roughly five times than that in the previous fiscal.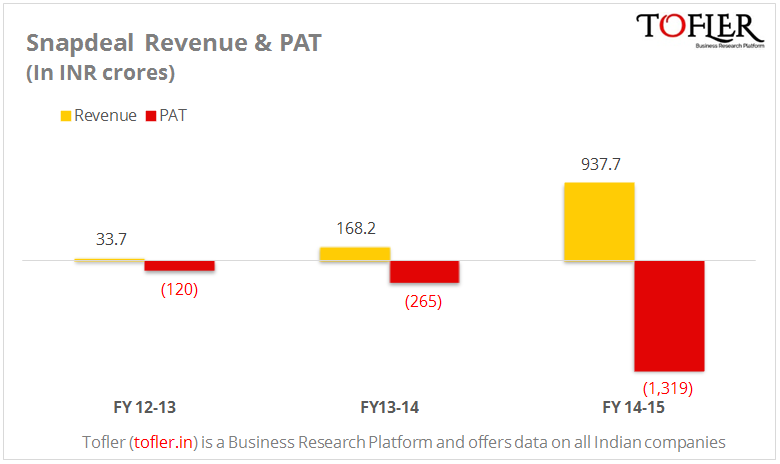 Compared to this, one of their competitors Shopclues, which recently entered the coveted Unicorn club, had reported a revenue of INR 79 crores with a loss of INR 101 crores in the same period.
As one would guess, their biggest expense in the fiscal was on Advertising and Promotional expenses at INR 1060 crores. Out of this, INR 426 crores was 'Advertising and Publicity Expense', while the remaining INR 633 crores was 'Business Promotion Expenses'. 'Business Promotion Expenses' could possibly pertain to various discount schemes offered on Snapdeal. Their Employee Benefit expense grew four fold from INR 87 crores to INR 367 crores. Here is a breakup of their expenses in the previous two fiscals: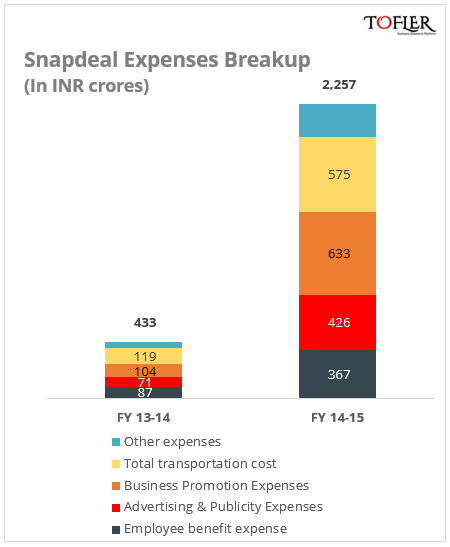 Growth Story
Snapdeal was founded by Kunal Bahl and Rohit Bansal in 2010 as a daily deals site but expanded to become an online marketplace in 2011. According to their website, they currently have more than 12 million products listed from 150,000 sellers and they deliver to more than 5000 cities in India.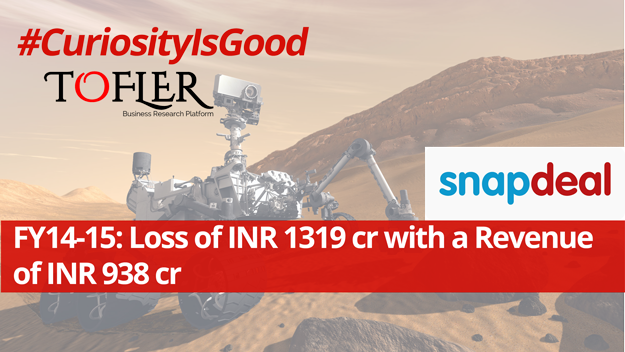 Snapdeal holds a market share of 32% of the Indian e-commerce industry compared to two of its biggest rivals Flipkart, which holds 44% and Amazon, which accounts for 15% of the total market.
In April of 2015, Snapdeal acquired Freecharge, a digital payments company to bolster their presence in Mobile payments space. The deal was rumoured to be in the region of $450 million through a mix of cash and equity.
FUNDING
Jasper has raised a total funding of INR 10,492 crores so far, according the documents filed with the Registrar of Companies. Out of this, INR 3,187 crores has come in after 31st March, 2015 and INR 6,181 crores came in FY 14-15. This two figures account for roughly 90% of their total funding received so far. Snapdeal counts Chinese eCommerce major Alibaba, OEM phone manufacturer Foxconn and Japanese investment bank SoftBank among its largest investors.
Recent developments
In order to increase their topline, Snapdeal has been dabbling in various offbeat categories with mixed success. Last year, Snapdeal became the first eCommerce site to start selling Luxury Yachts online. With the success in Automobiles category, they launched Snapdeal Motors, where visitors could book vehicles online from auto majors like Hero Motocorp, Mahindra and Mahindra, Suzuki Motorcycles and Datsun.
Snapdeal also had some good success in Home buying space. Snapdeal had held the Diwali Home Buying fest from November 3 to November 9 last year and approximately 10,000 customers showed interest and registered on the website to buy homes online.
And, it's not just Homes and Autos – Snapdeal has been successful in selling Maggi packets as well (after the ban had lifted) – They reportedly sold over 7,20,000 packs of Maggi Noodles in just 5 minutes!
Snapdeal has been experimenting a lot over the last 12 to 18 months in their quest to become India's biggest eCommerce portal.
---
For Annual Reports, Balance Sheets, Profit & Loss, Company Research Reports, directors and other financial information on ALL Indian Companies, head over to www.tofler.in – Business Research Platform.
---
This article was originally published here by Team Tofler.
Author– Vishal, a Sci-fi enthusiast, engineer by mistake and writer by choice, combines his eye for numbers with a natural flair for storytelling to churn out Tofler's blogs.
Editor –  Anchal, co-founder at Tofler, is a CA, CS and has more than 5 years experience in company analysis. She likes to explore and track companies, their performance and senior management.
---
Tofler makes no claim of ownership or affiliation with any trademark / logo (REGISTERED OR UNREGISTERED) used in this article. Trademarks or logos, if any, published on this page belong to their respective owners.