Practo is a healthcare start-up, owned and operated by Practo Technologies Private Limited, which offers patients and doctors a unique platform to interact. It enables patients to search for doctors and book appointments and offers a practice management tool to the doctors. With over 15 lac monthly users and a global presence, Practo has disrupted the healthcare segment by offering an efficient way for doctors and patients to connect.

Incorporated in

2008

Revenue FY 14-15

INR 29.7 Cr

Loss FY 14-15

INR 12.9 Cr 

Funds Raised

 INR 298 Cr

Financial Performance
Practo reported a 13X jump in its revenue in FY 14-15. Revenue stood at INR 29.7 crores, against a loss of INR 12.9 crores, but there is more to it.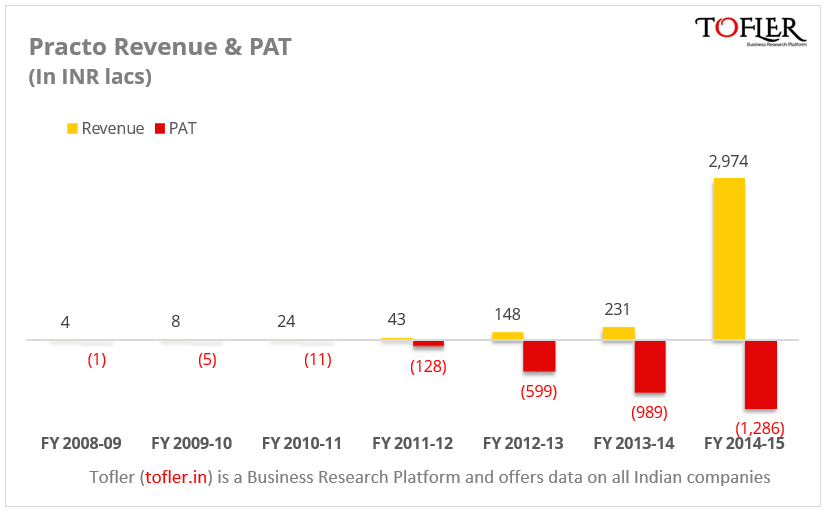 Revenue
Practo Ray is the main offering by Practo. It is a Practice Management tool for the doctors that provides them access to a SaaS tool, enables anytime access to data, e-prescription, reports, analytics and more. The company obtains its revenue from the subscription that it offers to the doctors. This revenue amounted to INR 6.1 crores in FY 14-15 (INR 2.2 crores in FY 13-14).
Out of a total reported 'Revenue from operations' of INR 25.4 crores, INR 19.3 crores (~76%) has been reported as 'Software development and support' and 'customer support and marketing services' that it rendered to its holding company, Practo Pte. Ltd., incorporated in Singapore in November 2012. Another INR 3.9 crores (13% of total revenue) has been reported, under the 'Other Income' head, as the 'sale of Intellectual Properties' (including its products Practo Ray, Hello, Search, Tablet, website, domain name, all the codes and the Trademarks held) to Practo Pte. Ltd. These three heads combined, have led to a seemingly exaggerated revenue figure in FY 14-15. Here is a breakup of their revenue in the past two years: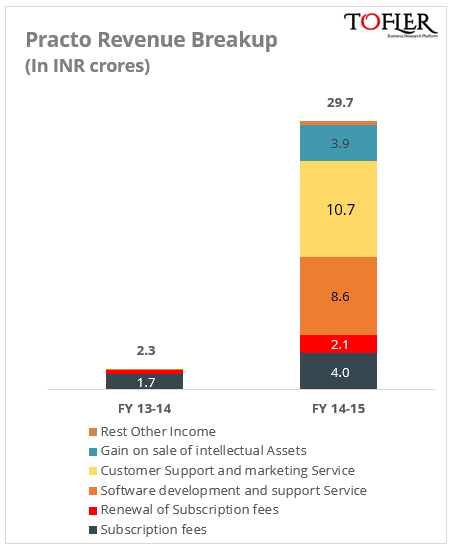 In lieu of this understanding between Practo India and Practo Pte, the former will now be paying subscription charges to the latter. As mentioned in the notes to the financial statement, "On 27 August 2014, the Company has entered into an agreement with its Holding Company for the use of its Intellectual Property Rights (IPR) by paying subscription charges which is based on a percentage of revenue generated by the Company. However, the Holding Company has waived the subscription charges for the period from 27 August 2015 till March 2015". Here, Practo India is being referred to as 'The Company' and Practo Pte is being referred to as 'Holding Company and there seems to be a typo in the last sentence where August 2014 is written as August 2015.
Expenses
Apart from the Employee expenses that stood at 62% of the total expenses, the major expense was Advertising promotional expense at INR 4.4 crore. Notably, it had spent only INR 83 thousand on advertising in the previous fiscal. Here is a breakup of their expenses:
Funding and Growth
Back in 2008 when Shashank ND and Abhinav Lal founded Practo, they started its operations in Bengaluru. Over a span of 7 years, Practo has entered 15 countries across the globe. Recently it started operations in Kula Lumpur in October last year. The company claims to have more than 1.3 lac doctors on its platforms and more than 4 million monthly searches. They went on an acquisition spree this year, making four acquisitions in a span of five months – Fitho Wellness (fitness and preventive healthcare), Genii (a tech products development firm), Insta Health (hospital information management solution provider) and Qikwell (doctor appointment booking platform).
The company has raised a total funding of INR 298 crores so far. Out of this, about INR 11 crores came from Sequoia Capital during March 2011 to October 2012. Rest of the amount – INR 286.4 crores – has been routed through their holding company Practo Pte. Last fund of INR 164 crores was infused in September 2015.
In a crowded space of healthcare platforms, where a few like HelpingDoc have shut down and others like Fitho and Quikwell have gotten acquired, Practo competes closely with Lybrate. So far, it seems to be emerging as a clear leader in this space. In a latest bid, it partnered with Uber, to enable patients to book a cab through Practo app. Recently, it has also entered the beauty and wellness segment by bringing spas, salons and fitness centres on its platform.
---
For Annual Reports, Balance Sheets, Profit & Loss, Company Research Reports, directors and other financial information on ALL Indian Companies, head over to www.tofler.in – Business Research Platform.
---
This article was originally published here by Team Tofler.
Author– Vishal, a Sci-fi enthusiast, engineer by mistake and writer by choice, combines his eye for numbers with a natural flair for storytelling to churn out Tofler's blogs.
Editor –  Anchal, co-founder at Tofler, is a CA, CS and has more than 5 years experience in company analysis. She likes to explore and track companies, their performance and senior management.
---
Tofler makes no claim of ownership or affiliation with any trademark / logo (REGISTERED OR UNREGISTERED) used in this article. Trademarks or logos, if any, published on this page belong to their respective owners.