A.M. Marketplaces Private Limited which owns and operates Limeroad, the social discovery e-commerce platform for women, has reported its latest revenue figures. The company earned revenue of INR 15.6 crores in FY 14-15 compared to INR 2.6 crores in FY 13-14. However, the company's losses more than doubled to INR 32.5 crore from INR 14.3 crore in the previous fiscal.
Incorporated in

2012

Revenue FY 14-15

INR 16 Cr

Loss FY 14-15

INR 33 Cr

Funds Raised

298 Cr
Financial Performance
The revenue from operations grew from INR 1.8 crores in FY 14 to INR 9.3 crores in FY 15. This (60% of total revenue) is comprised of 'Commission Income' (55%), 'Shipping Charges' (3%) and 'Collection Charges' (1%). Other Income (Income from Interest on Bank Deposits) contributed 40% to the total revenue at INR 6.3 crores.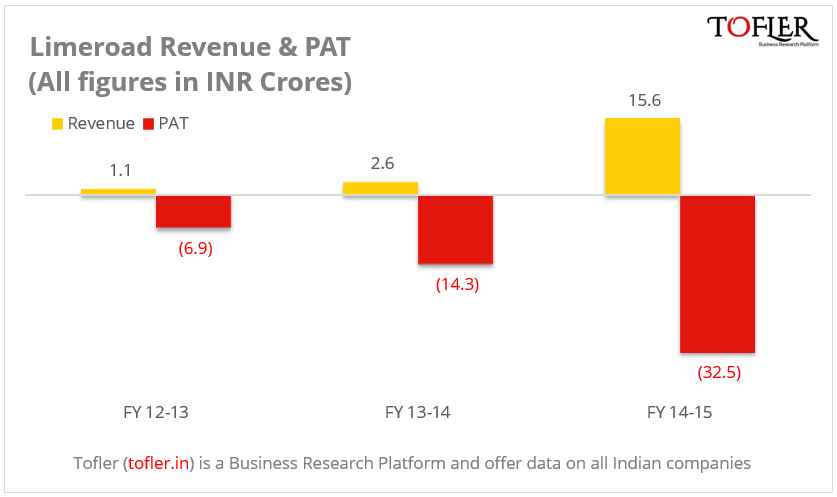 The expenses stood at INR 48 crores. The biggest expense was the Advertisement and Sales Promotion expense at INR 18.2 crores, 38% of the total expenses. The following is a breakup of the expenses: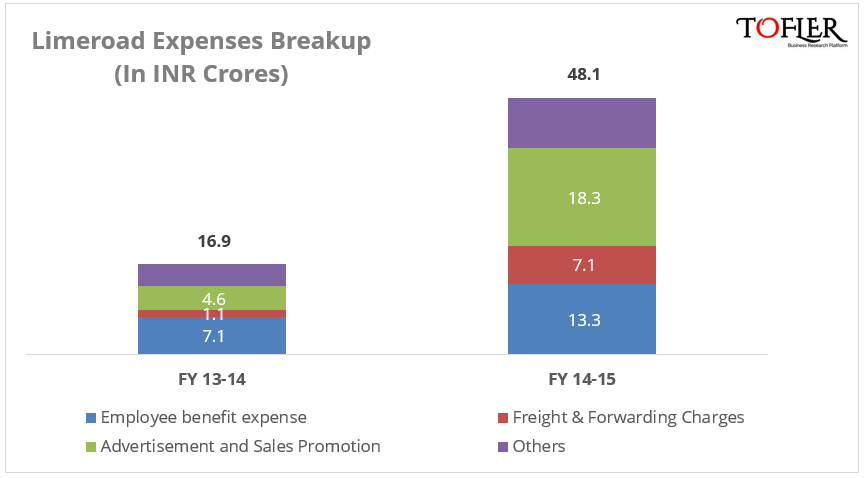 About Limeroad
Limeroad is a unique ecommerce platform that allows its users (women) to create and share different looks apart from shopping on the website as well. Ankush Mehra, Suchi Mukherjee and Prashant Malik, the founders came up with this unique proposition for women through a 'social ecommerce platform', where they can create a unique look, from a range of products available on the app, on a virtual scrapbook and share and sell the look as well. The range includes clothing, accessories, footwear, bags and home and décor products from various brands and SME vendors.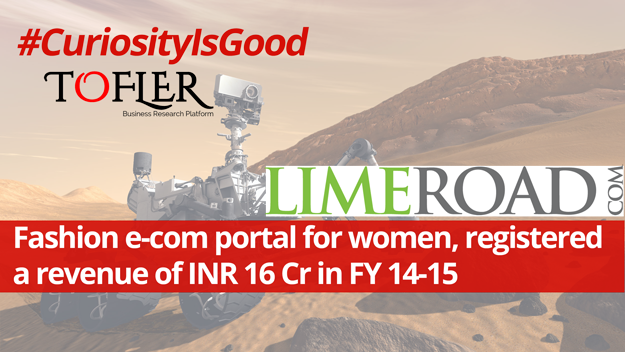 The company has raised a total of INR 298 crores (~$50 million) in three rounds of funding from Tiger Global, Lightspeed Venture and Matrix Partners.
[table id=9 /]
Although not a direct competitor, Jabong and Myntra are key players among lifestyle e-tailers in India. Roposo and Zivame can be considered among direct competition of Limeroad. Limeroad has approached fashion e-commerce with a novel approach. With consumers facing a problem of plenty, for every such platform, engaging their users is the key and Limeroad seems to be doing that well.
---
This article was originally published here by Team Tofler.
Author– Vishal, a Sci-fi enthusiast, engineer by mistake and writer by choice, combines his eye for numbers with a natural flair for storytelling to churn out Tofler's blogs.
Editor –  Anchal, founder at Tofler, is a CA, CS and has more than 5 years experience in company analysis. She likes to explore and track companies, their performance and senior management.
---