Locodel Solutions Private Limited which owns and operates the app only hyper local delivery service, Grofers has reported its annual returns with the Registrar of Companies for the financial year 2014-15. The company reported revenue of INR 86 lacs at a loss of INR 3.9 crores in the year.
Incorporated in

2013

Revenue FY 14-15

INR 86 lacs

Loss FY 14-15

INR 4 Cr

Funds raised

INR 305 cr
About Grofers
Grofers was founded in 2013 by Saurabh Kumar and Albinder Dhindsa. It offers a wide range of products for instant delivery through its mobile app. According to Grofers' website, it offers more than 1,20,000 products across various categories including fresh produce, grocery, bakery, cosmetics, household and recently electronic goods as well. The app provides the users the choice to order goods from nearby local stores and get those delivered within 90 minutes of placing the order. It is present across 26 cities in India.
Grofers is in its third year of operations. The company had initially started as a B2B service and later switched to the hyperlocal B2C model. It had launched its mobile app last year in December for customers use.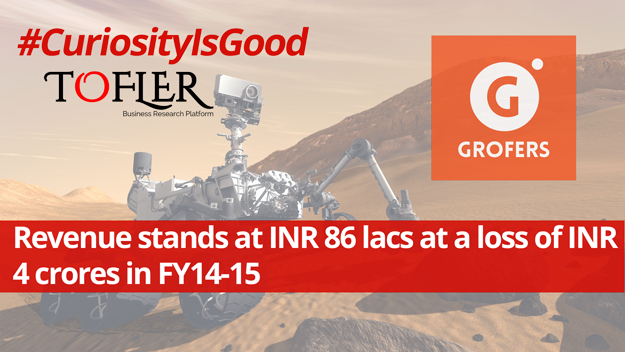 Financial Performance of Grofers
The company reported a revenue of INR 86 lacs in FY14-15 compared to INR 1.8 lacs in FY13-14. Out of INR 86 lacs, INR 73 lacs was revenue from operations. The company realizes its revenue from the commission on sale of products and reimbursement of freight and collection expenses from the vendors.
The company made a loss of INR 3.9 crores in FY14-15 compared to a loss of INR 2.8 lacs the previous fiscal. Largest expense head was 'Employee Expenses' at INR 2.2 crores, followed by 'Manpower Supply charges' at INR 61 lacs and 'Advertising Promotional Expense at INR 60 lacs'.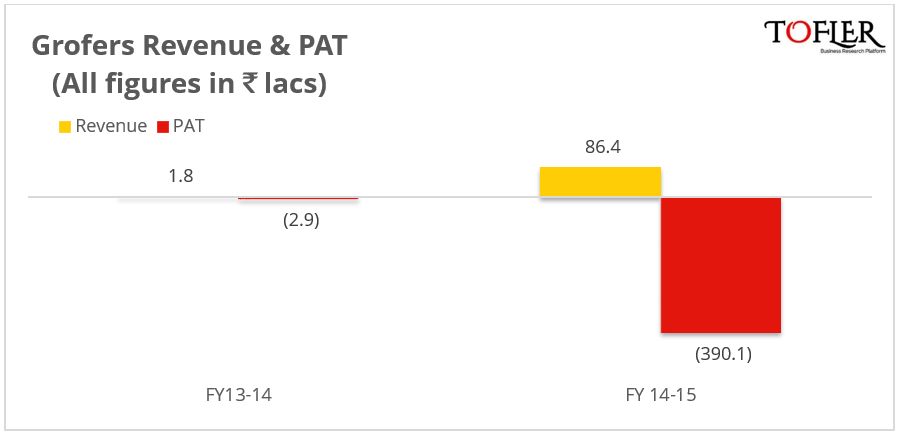 According to Grofers' website, their mobile app has 1.6 million downloads and it took only 10 days for Grofers to spread across 17 cities in the country. Evidently, the company has been on a major expansion spree in the past few months. This has been fueled by 3 rounds of funding received from Sequoia and Tiger Global. As per the documents filed with the Registrar of Companies, it had raised INR 305 crores (~$50 million) till August this year. It was widely reported in the news that Grofers had raised another $120 million in November 2015, from a group of investors led by Softbank, but they have not filed any documents for the same.
The other major players in the hyperlocal groceries delivery include BigBasket (operational in 13 cities) and Peppertap (operational in 19 cities). There are currently more than 20 startups operating across India in this space after a few of them shut shops this year.
Recently, major e-commerce players have jumped in to get a share of the hyperlocal pie as well. Flipkart Nearby and Amazon Kirana are operational in Bangaluru and are offering groceries at customer's doorsteps. Ola also launched their Ola Store to provide instant delivery of groceries. Hyperlocal seems to be the buzzword and early entrants (and heavily funded) players like Grofers seem to be at the forefront in this space. As the segment matures and looks to consolidate, few big acquisitions may be on the cards. For now, they have made lives easier for a large number of people.
---
This article was originally published here by Team Tofler.
Author– Vishal, a Sci-fi enthusiast, engineer by mistake and writer by choice, combines his eye for numbers with natural flair for storytelling to churn out Tofler's blogs.
Editor –  Anchal, founder at Tofler, is a CA, CS and has more than 5 years experience in company analysis. She likes to explore and track companies, their performance and senior management.
---