Freshworks Technologies has reported an annual revenue of INR 199 crore in the FY 16-17. The startup is a leading SaaS B2B provider in India.
Incorporated in

  2010    

Revenue FY 16-17

INR 199 Cr

Loss FY 16-17

INR 62.2 Lakhs
Financial Performance of Freshworks Technologies
As per the latest financial statements of the company, the revenue of INR 199 crore in FY
16-17 saw a jump of 109% from the previous year's figures of INR 94.89 crores. However, in the same period, the
profit and loss statement shows a loss of INR 62.20 lakhs vis-a-vis profits of INR 8 cr in the last year, which may be accounted to several new buyouts that Freshworks made in FY 16-17.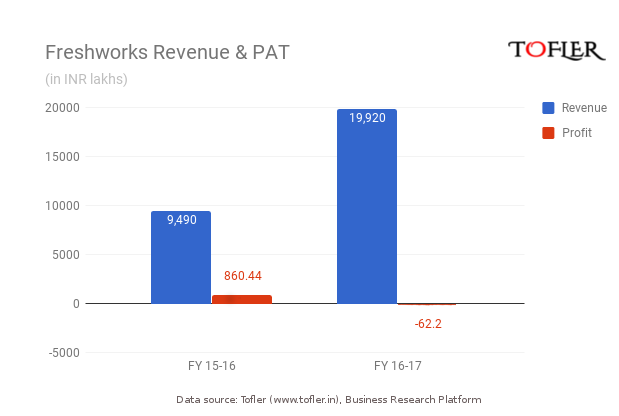 The company's total expenses stood at INR 171.84 crore in the same financial year. The bulk of expenses went towards employee benefits in FY 16-17.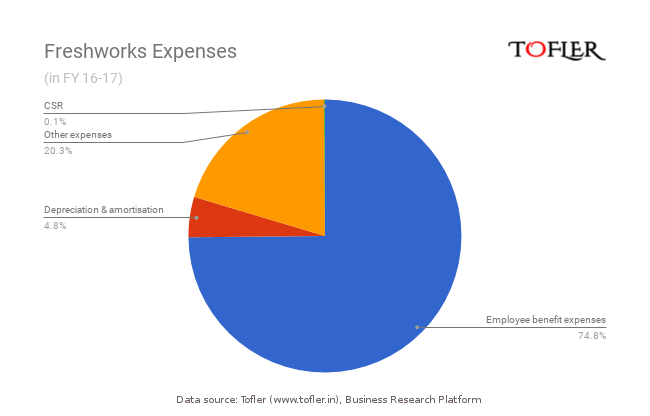 About Freshworks Technologies
Freshworks Technologies Pvt Ltd is a subsidiary of Freshworks, Inc. USA, and was incorporated in 2010 with headquarters in Chennai. It is one of the few startups that are eying unicorn status in India in 2018, and it is particularly noteworthy for being a B2B startup in an economy where most unicorns are consumer facing businesses.
The company once known as Freshdesk, offers software as a service on the cloud. It has raised capital from Accel Partners, Tiger Global, Capital G and Sequoia Capital India. It has raised nearly INR 150 crores (USD 230 million) till date and has made nine acquisitions in the last two years, with seven product launches in 2017 alone. Freshwork's buyouts include SaaS startup Pipemonk, social chat platform Chatimity, and social media listening and analytics platform Airwoot by Memeticlabs Technologies. In 2015, the company had acquired video chat software 1Click.io, social recommendation platform Frilp and in-app customer support platform Konoter. The startups latest acquisitions include chatbot Joe Hukum and marketing software startup Zarget. Clients of Freshworks global include Hugo Boss, Honda, Toshiba and Cisco.
In the Indian market, Freshworks has a head start in a promising market. The Indian SaaS and enterprise software market is responsible for 9 percent of all software sales. Experts believe that the CRM, BI/analytics and CCC markets are going to grow in India. Another school of thought is that India is a good place to build but not sell SaaS products. It will be interesting to watch how Freshworks and its market evolves in the future.
(For annual reports, financial statements, company research reports, directors and other financial information on Indian companies, head over to www.tofler.in – Business Research Platform.)
Tofler makes no claim of ownership or affiliation with any trademark / logo (REGISTERED OR UNREGISTERED) used in this article. Trademarks or logos, if any, published on this page belong to their respective owners.
r