Clues Network Pvt Ltd, the operator of online shopping portal 'ShopClues' has reported a revenue of INR 188 crore in FY 16-17. 30% of revenues are earned from its advertising and marketing services and 10% from monetization and seller services with seller initiatives like C1X, Reach PoS and Business Edge.
Incorporated in

2011

Revenue FY 16-17

INR 188 Cr

Loss FY 16-17

INR 332 Cr 

Funds Raised

 INR 1000 Cr
Financial Performance of ShopClues
The latest financial statement for year ending at March 2017 reveals that the revenue of INR 188 crore in FY 16-17 has increased by only 5% over the previous years' INR 178 crore. At the same time the company registered losses of INR 332 crore in FY 16-17. The business has been mounting losses for a few years. The revenue doubled between FY 14-15 and FY 15-16, but has remained more or less stagnant since then.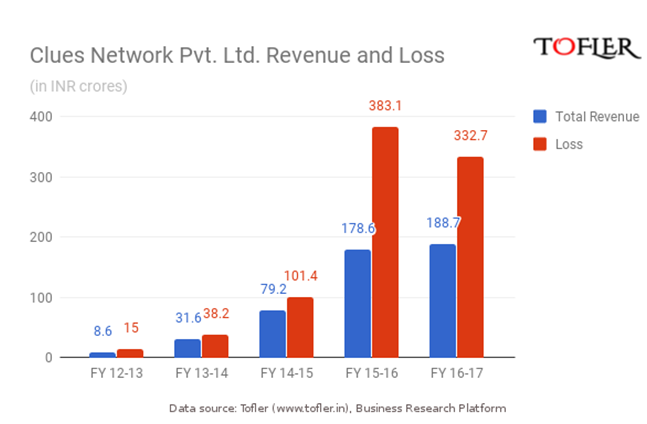 The bulk of the company's expenses come from expenses in new technology and in advertising and promotional expenditure, as well as acquisitions. The balance sheet reveals company's spendings on employee benefits have also more than doubled in FY 16-17, though revenues didn't rise much, affecting the profit and loss account. However, its promotional and advertising spendings were cut down from INR 236 crore to INR 188 crore. Revenues are largely from merchant fees.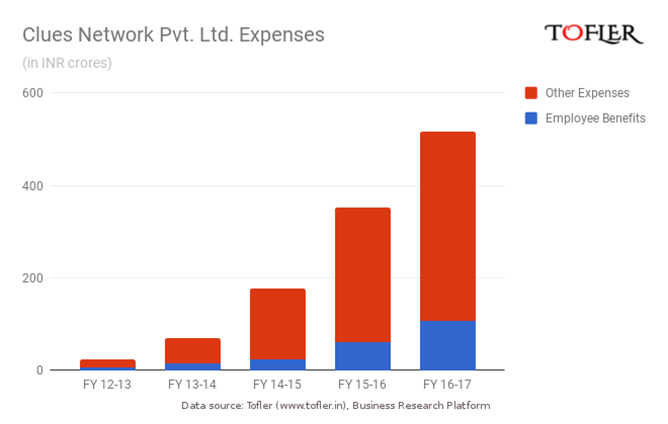 About ShopClues
Clues Network Pvt. Ltd., known by its brand name ShopClues, was registered in 2011 under the US-based headquarters, as an e-commerce platform in the retail categories of electronics, fashion, daily utility items, kitchen and home. In 2016, the company reached a milestone when the number of sellers on the portal hit a record 500,000. Around 70 percent of its gross merchandizing value comes from Tier 2 and 3 cities.
The company grew dramatically in 2016, right after it launched Capital Wings, a financial platform for merchants. In the following year, it partnered with GoDaddy to help SMEs establish e-commerce sites and launched yet another marketing product for their sellers called AdZone. ShopClues also collaborated with e-commerce company StoreKing, and acquired a mobile payments company Momoe.
ShopClues has also received several awards for its its Ghar Wapasi campaign and raised funds from Tiger Global Management and Singapore government's wealth fund GIC. In an industry where larger competitors like Amazon and Flipkart have been aggressively expanding into tier 2 and tier 3 towns, ShopClues may struggle for its survival.
(For annual reports, financial statements, company research reports, directors and other financial information on ALL Indian companies, head over to www.tofler.in – Business Research Platform.)
Tofler makes no claim of ownership or affiliation with any trademark / logo (REGISTERED OR UNREGISTERED) used in this article. Trademarks or logos, if any, published on this page belong to their respective owners.
Inc