Big Tree Entertainment Private Limited, which owns and operates bookmyshow.com, has reported its latest financials. The company's revenue crossed INR 100 crore mark in FY 14-15 with a growth of 57% over the past fiscal's revenue.
Incorporated in

1999

Revenue FY 14-15

INR 132 Cr

Loss FY 14-15

INR 14 Cr 

Funds Raised

 INR 145 Cr*
*since March 2007.
The company operates online movie and event ticketing brand BookMyShow, media measurement and research company Rentrak, cinema software Vista along with call centre services for booking. It has tie-ups with some of the biggest players in cinema industry including Big Cinemas, Wave Cinemas, Fun Cinemas, PVR among others.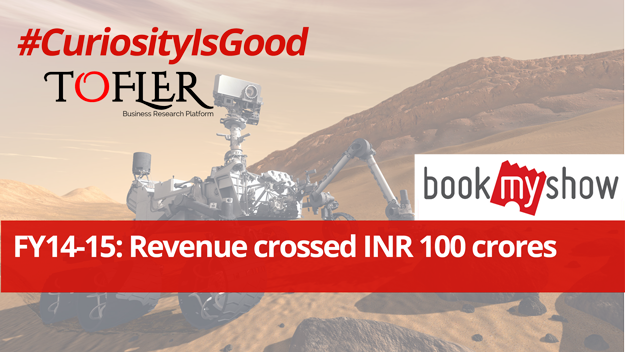 Financial Performance
The company has reported revenue of INR 132 crores against a loss of INR 13.5 crores. This is 57% growth in revenue over the previous fiscal. The following chart captures their financial performance over the last 10 years. The company has seen a steep 10X revenue growth in the past 5 years.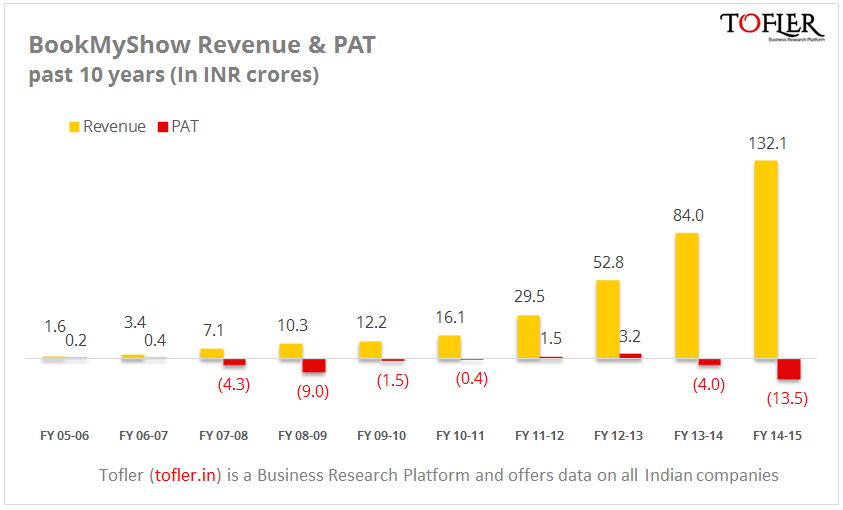 Revenue Recognition
The company has multiple streams of revenue generation. These include convenience fee on online sale of tickets, revenue from concerts and events, revenue from sale and maintenance of software, from sale of advertisement space, revenue from the call centre business. The online ticket sales saw a growth of 94% over the previous fiscal from INR 46 crores to INR 88 crores. However the commission income from concerts and events saw a 20% dip, down from INR 23 crores to INR 18 crores. The following chart elaborates the revenue source for Big Tree: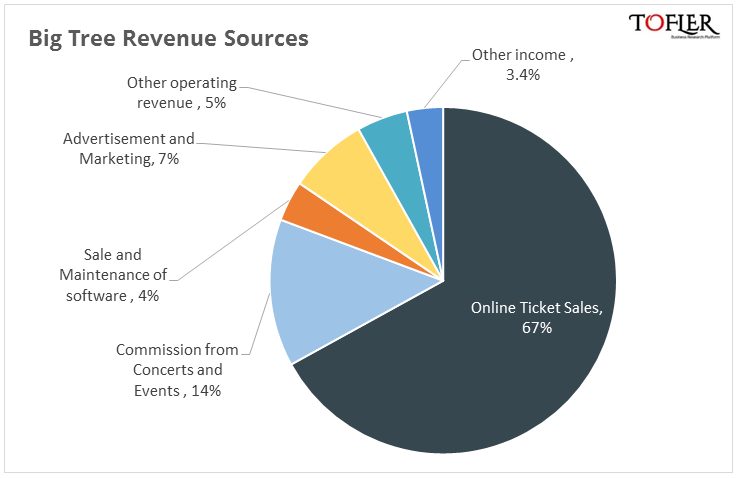 The major expenses for the company were the Advertising promotional expense at INR 26 crores and Employee expense at INR 17 crores.
Growth Story
Big Tree Entertainment was founded in 1999. From 2002 to 2007 the company prepared the infrastructure to launch an online ticket booking system across the multiplexes. Once that was achieved, the company launched BookMyShow in 2007. Currently it contributes around 80% to the company's revenue. BookMyShow currently operates in 4 countries outside India – Bangladesh, New Zealand, UAE and Indonesia. According to Forbes India, it has a market share of about 85 to 90% of the online entertainment-ticketing market in India. Apart from movie tickets the company offers tickets to concerts, plays and sporting and others events including conferences, workshops, music and travel. BookMyShow's competitors include Kyazoonga, Ticketgenie among others.
Funding
The company has raised funds of INR145 crores since March 2007. The latest round was of INR 130 crores. The key investors in the company are SAIF Partners, Accel and Network 18.
Forbes India features BookMyShow among the most successful mobile ecommerce app in the country and contributes about 60% to the transactions. The company has been diversifying from the ticketing model to include other avenues including movie and event reviews, spectator management, food management system at events, etc.
---
For Annual Reports, Balance Sheets, Profit & Loss, Company Research Reports, directors and other financial information on ALL Indian Companies, head over to www.tofler.in – Business Research Platform.
---
This article was originally published here by Team Tofler.
Author– Vishal, a Sci-fi enthusiast, engineer by mistake and writer by choice, combines his eye for numbers with a natural flair for storytelling to churn out Tofler's blogs.
Editor –  Anchal, co-founder at Tofler, is a CA, CS and has more than 5 years experience in company analysis. She likes to explore and track companies, their performance and senior management.
---
Tofler makes no claim of ownership or affiliation with any trademark / logo (REGISTERED OR UNREGISTERED) used in this article. Trademarks or logos, if any, published on this page belong to their respective owners.