Hyperlocal grocery delivery startup BigBasket saw a 2.5 times growth in its revenue in FY 14-15 as its revenue figures reached INR 178 crores.
BigBasket, which is owned and operated by Supermarket Grocery Supplies Private Limited, was founded by Hari Menon, V.S. Sudhakar, Vipul Parekh and Abhinay Choudhari in October 2011. It is an online grocery store that operates through the website and mobile app and provides home delivery in on-time and flexible delivery time slots.
Incorporated in

2011

Revenue FY 14-15

INR 178 Cr

Loss FY 14-15

INR 61 Cr 

Funds Raised

 INR 695 Cr
BigBasket is currently present across 15 cities in India. The company claims to have more than 18,000 products in numerous categories including grocery & staples, fruits and vegetables, beverages, branded foods, personal care, household among others.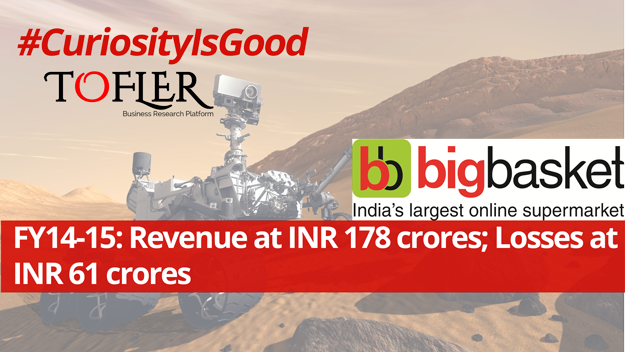 Financial Performance of BigBasket
BigBasket reported revenue of INR 178 crores against loss of INR 61 crores in FY 14-15. The revenue and PAT figures during the last fiscal were INR 71 crores and INR 22 crores, respectively. The revenue from operations stood at INR 170 crores in FY 14-15.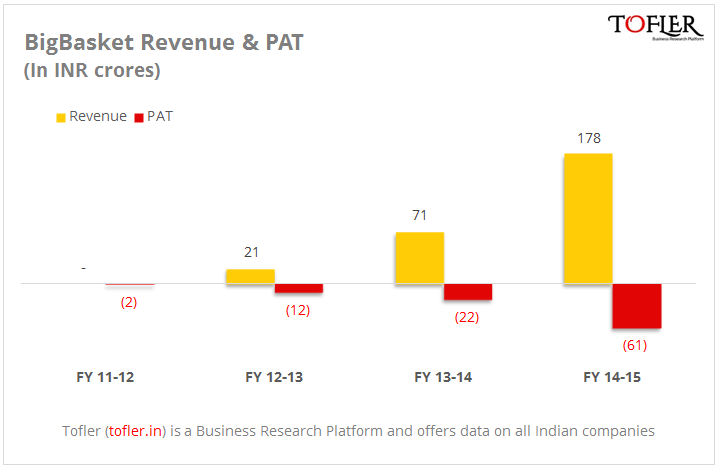 The breakup of revenue sources is as follows:
BigBasket operates on an inventory-led model and, hence, the biggest expense for the company was the purchase of stock-in-trade which stood at INR 171 crores.  The company spent INR 22 crores on advertising and promotional expenses in FY 14-15 which was a 420% increase over the previous fiscal. The following is the breakup of the major expenses of the company: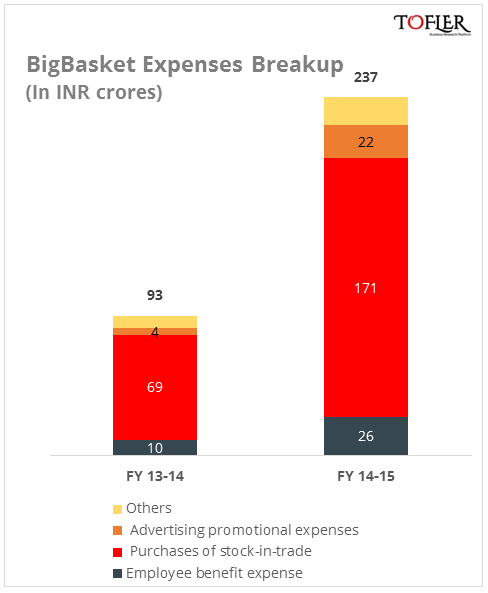 Funding of BigBasket
As per the documents filed with the Registrar of Companies, the company has raised a total funds of INR 695 crores from various investors including Bessemer Ventures, Helion Partners and Sands Capital. The latest investment of INR 124 crores was done by the US based Sands Capital.
Comparison
BigBasket competes with players like Grofers, Peppertap and ZopNow in the online groceries segment. Here is how it compares with the rest in FY 14-15: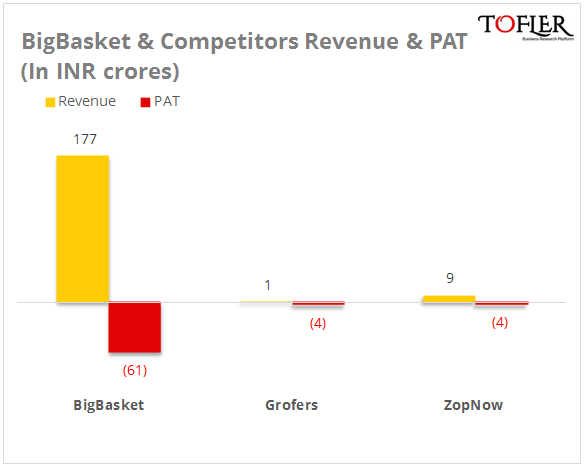 It is worth noting that most of the other players are in their early stages and have been operational for 4 years or less.
Conclusion
The online grocery store segment has seen a lot of action in the past one year. Grofers recently raised $120 million from Japan's SoftBank in November 2015. However, it shut down operations in 9 tier-2 cities in January this year as it did not deem the market ready. Another player LocalBanya shut shop in 2015. The space has also attracted E-commerce giants like Flipkart, which has launched Flipkart Nearby; Amazon that launched Amazon KiranaNow; Snapdeal invested in Peppertap in September last year. Godrej also launched Nature's Basket to compete in the segment. Ola Cabs has also come up with Ola Store for hyperlocal grocery delivery.
The well-funded companies have been on an acquisition spree. Grofers has acquired rival MyGreenBox in April last year along with acqui-hiring Tech companies SpoonJoy and Townrush. BigBasket acquired hyperlocal delivery Delyver in June, 2015. PepperTap  also acquired Bangalore based hyperlocal grocery delivery startup Jiffstore.
Among acquisition, closures and big entrants, it will be interesting to see how the hyperlocal grocery market evolves in the coming year.
---
For Annual Reports, Balance Sheets, Profit & Loss, Company Research Reports, directors and other financial information on ALL Indian Companies, head over to www.tofler.in – Business Research Platform.
---
This article was originally published here by Team Tofler.
Author– Vishal, a Sci-fi enthusiast, engineer by mistake and writer by choice, combines his eye for numbers with a natural flair for storytelling to churn out Tofler's blogs.
Editor –  Anchal, co-founder at Tofler, is a CA, CS and has more than 5 years experience in company analysis. She likes to explore and track companies, their performance and senior management.
---
Tofler makes no claim of ownership or affiliation with any trademark / logo (REGISTERED OR UNREGISTERED) used in this article. Trademarks or logos, if any, published on this page belong to their respective owners.