Continuing with its series on technology start-ups and their financial performance, Tofler takes a look at MakeMyTrip and explores how they have fared in the past decade.
Starting its journey in 2000 from USA, MakeMyTrip was the first in India to launch an online travel portal back in 2005. Since then it has grown by leaps and bounds and today boasts to be a one-stop-shop for all travel products and services in India.
Company Profile
MakeMyTrip trademark is owned by the company MakeMyTrip (India) Private Limited (Source: www.tofler.in). The company was founded by Deep Kalra in 2000. MakeMyTrip is an online portal to book flight, rail and bus tickets, cab service, hotels and holiday bookings. It started its operations in the year 2000 from the USA, catering to the need of the Indians traveling from US to India, and launched itself in India in the year 2005. It launched its mobile app in 2012.
MakeMyTrip Limited is the parent company of MakeMyTrip and holds almost 100% shares in the company.
Financial Performance
MakeMyTrip has been on a constant growth trajectory. MakeMyTrip joined the 1000 Crore turnover group recently in FY 2012-13.  Its revenue from operations has constantly grown over the past 9 years in excess of 20% year-on-year. It turned profitable in the year 2011, a year in which it also went public in the US market and got listed on the NASDAQ. However, in the past two fiscal years the company has reported loss of INR 74 Crores and INR 61 Crores, respectively. Following chart captures its financial performance over the past 9 years of operations in India.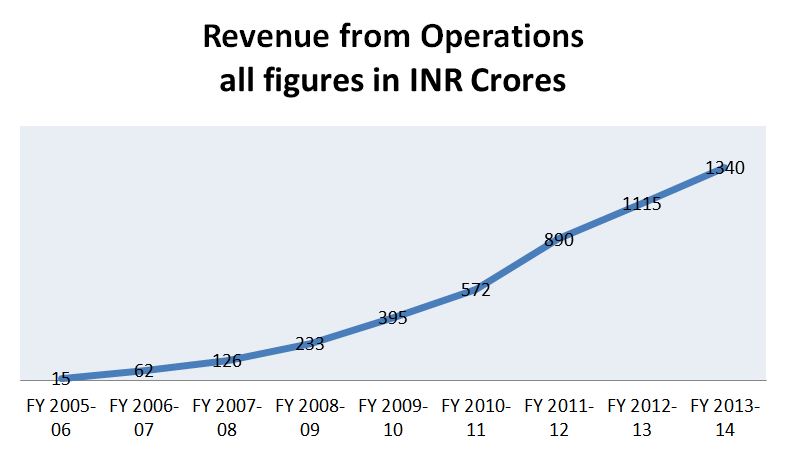 In their latest bid, MakeMyTrip has launched a vernacular train booking app with support for 5 Indian languages.  As they say, you do not need magic to disappear, you only need a destination. Happy finding one on MakeMyTrip!
---
Author – Vishal, a recent addition to Team Tofler, combines his passion of writing with searching for a worthy story in a Company, to make an interesting read.
Editor –  Anchal, founder at Tofler, is a CA, CS and has more than 5 years experience in company analysis. She likes to explore and track companies, their performance and senior management.
---