What Is Zomato?
Zomato is an Indian startup that focuses on food delivery and restaurant aggregation services. Its core offerings include comprehensive details, menus, and customer reviews of various restaurants. Additionally, Zomato collaborates with partner restaurants to offer convenient food delivery services in select cities.
| | |
| --- | --- |
| Startup Name | Zomato |
| Headquarter | Gurugram, India |
| Sector | Food Delivery |
| Founders | Deepinder Goyal, Gaurav Gupta, Pankaj Chaddah |
| Founded | 2008 |
| Valuation | $8 Billion (July 2021) |
| Revenue | $540.61 mn (Rs 4192.4 crore in FY22) |
| Total Funding | $2.1 billion |
| Parent Organization | Zomato™ Media Pvt Ltd. |
| Website | zomato.com |
How was Zomato Started? History Of Zomato
The journey of Zomato began when its founders, Deepinder Goyal and Pankaj Chaddah, noticed a common problem while working in their New Delhi office. They observed numerous people waiting for long periods just to catch a glimpse of a restaurant's menu card. This experience sparked the idea of finding a solution, leading to the launch of Zomato, originally known as 'Foodiebay'.
In July 2021, Zomato celebrated its 13th anniversary in a grand manner. The brand commemorated its birthday on July 10, 2021, with great enthusiasm. Pramod Rao, the former VP of Marketing at Zomato, who played a significant role in building the marketing team and expanding the brand's operations, shared his congratulations to Zomato along with an entertaining video showcasing the brand's work on that day. This message was shared by Pramod Rao via his LinkedIn profile.
To address the problem of people waiting for menu cards, Zomato initially began by uploading soft copies of menu cards on their website. This innovative approach allowed users to access menus conveniently and saved them a significant amount of time. The positive response from their colleagues in the office led to increased website traffic. Encouraged by this early success, Zomato expanded its website to make it accessible to people across the entire city, catering to a wider audience.
Zomato – Business Model and Revenue Model
Zomato primarily generates revenue through its advertisement channel, which allows businesses to display advertisements on its portal. This serves as the main source of income for the company, followed by the commissions it charges to restaurants for their services. Zomato operates on a commission-based business model.
In a move to support restaurant partners and aid their recovery from the economic downturn caused by the Covid-19 pandemic, Zomato made an announcement. The company stated that it would eliminate the commissions it charges on takeaway orders. This decision not only aimed to provide relief to restaurants but also offered customers an alternative by allowing them to opt for Zomato delivery service or choose home delivery options.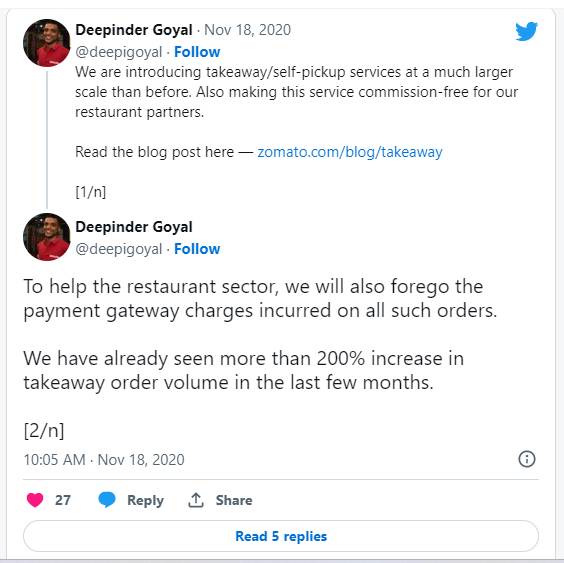 Zomato – Startup Challenges
One of the key challenges in the journey of Zomato has been the task of ensuring comprehensive coverage of all restaurants in pivotal cities and areas. The aim has always been to provide consumers with access to the finest local restaurants, and this goal has been present since the company's inception. Zomato continues to invest significant efforts in achieving this milestone.
However, the journey of Zomato has not been without its share of serious challenges that tested the resilience of the team. Some of these challenges include:
Potential Business Loss from Domino's India:
Reports suggest that rising commissions for food delivery startups like Swiggy and Zomato may lead to independent businesses, including major players like Domino's India, considering the option of leaving these platforms.
Investor Exits from Zomato:
Uber, which held a 7.8% stake in Zomato following the acquisition of Uber Eats India by Zomato, exited the company's cap table on August 3, 2022. These shares were sold for $392 million, allowing Uber to mitigate its losses. Additionally, Tiger Global, an American investment firm, sold half of its Zomato shares between July 25 and August 2, 2022, reducing its stake from 5.11% to 2.77%.
Zomato Shares Decline after Blinkit Acquisition:
After Zomato announced its acquisition of Blinkit on June 24, 2022, the company's shares began to decline. The addition of another loss-making company was met with disapproval from some investors, although it was seen as a potential long-term addition to the foodtech giant. Zomato's CEO, Deepinder Goyal, emphasized that the Blinkit business aligns synergistically with Zomato's core food business, positioning the company for long-term success.
The decline in Zomato shares continued for multiple sessions following the Blinkit acquisition, resulting in a loss of over Rs 10,250 crore in market capitalization by June 29, 2022. The shares fell by over 60% in 2022, with a decline of over 23% in just four sessions when checked on July 1, 2022.
Despite these challenges, Zomato remains focused on its mission and continues to navigate the evolving landscape of the food delivery industry.
Zomato – Funding & Investors
To date, Zomato has successfully raised approximately $2.1 billion in funding, demonstrating its appeal to investors. In February 2021, the company closed a funding round of $250 million, led by existing investors Tiger Global, Kora, and Fidelity. This funding round propelled Zomato's valuation to reach $5.4 billion. Notably, Kora invested $115 million, Fidelity contributed $55 million, and Tiger Global invested $50 million in this round.
Among the recent funding rounds, two significant ones stand out. The first is a $660 million round led by Kora and Tiger Global Management, and the second is the $250 million round led by the same investors, with the addition of Fidelity and other investors. These rounds have played a crucial role in supporting Zomato's growth. In October 2018, Zomato secured a substantial funding round of $210 million led by Ant Financial, which marked a significant milestone prior to the recent rounds. Chinese investors, including Alibaba and Ant Financial, have played a significant role in fueling the growth of food-tech startups in India, with both Zomato and its rival Swiggy benefiting from investments by Chinese giants like Alipay and Ant Financials.
Leading up to its public listing, Zomato raised funds amounting to Rs 4,196 crores from marquee anchor investors, as part of the anchor book allocation. Info Edge India holds the largest stake in Zomato, owning over 18.4% of the company.
Zomato achieved unicorn status, denoting a valuation of over $1 billion, in March 2018. Interestingly, this milestone coincided with the departure of Zomato's co-founder, Pankaj Chaddah, from the company.