Trident Group is one of India's global amalgamation textile fabric manufacturers. The company was founded in the early years of the great Indian economic liberalization; by Padma Shri Mr. Rajinder Gupta.
Trident Group Limited is an unlisted public company incorporated on 12 November 2003. company and is located in Chandigarh, Chandigarh.
The group began with a solitary unit making high-quality yarn; later, they became the largest manufacturer of terry towels and one of the largest integrated home textile manufacturers in the world. Strong business ethics, excellence in business, productivity, sound corporate governance and effective management have been the foundation of the continuous success of the group.
The Trident is part of our everyday life, they supply to homes of millions of customers across 100 countries including India. They have an overall manufacturing capacity of1 Million pcs/day. They have 3 manufacturing plants in India; at Budhni, Dhaula and Sanghera. Their manufacturing units are well-equipped with latest technology.
The authorized share capital is INR 155.00 cr and the total paid-up capital is INR 83.95 cr. Trident Group Limited has five directors – Rajinder Gupta, Suraj Parkash Setia, and others. The Corporate Identification Number (CIN) of Trident Group Limited is U00000CH2003PLC026524. The registered office of Trident Group Limited is at SCO 20-21, Sector 9-D, Madhya Marg, Chandigarh, Chandigarh.
Here is the quick snapshot of the company; to know more details you can purchase the full financial report or view Sample Report
| | |
| --- | --- |
| Operating Revenue | INR 1 cr – 100 cr |
| EBITDA | 60.11 % |
| Networth | 39.08 % |
| Debt/Equity Ratio | 0.00 |
| Return on Equity | 28.62 % |
The company products are mainly divided into below 7 categories:
Bed
Product portfolio of Bed Linen
Solid/ Printed Sheets
Top-up Sheets
Duvets
Comforters
Fitted Sheets
Pillow Cases
Quilts
Decorative Pillows
Coverlets
Dohars.
Bath :
Product ranges of bath are sold under below-mentioned names:
Nectarsoft
Finesse
Classic
Home essential
Tri-safe
Sanskriti
Occassions
His & Her
Indulgence
Paper:
Trident is one of the nationally preferred suppliers of high-quality branded copier paper and high-quality paper for multi-colour high-speed printing & publishing. Below are the brands: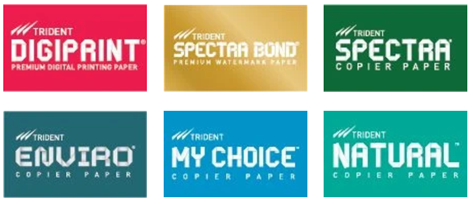 Yarn :
Trident has emerged as one of the eminent manufacturers and suppliers on high performance knitting and weaving yarn with capacity of 390 MT/DAY TOTAL PRODUCTION. The main products are Cotton like Supima, Giza used for hosiery & weaving and it is available in multiple blends.
Chemical:
It caters to the diverse battery requirements and finds usage in the production
of zinc sulphate, alum, detergent and dye and fertilizers.
Energy:
They use the entirety of the black liquor effluent and other biomass generated as by-product along with coal to generate high-pressure steam to power manufacturing.
CURRENT PRODUCTION CAPACITY = 50 MW
FMCG:
The FMCG products are sold under brand name Trisafe.