There are 14.6 lac companies that have been incorporated in India. Of those around 10.5 lac companies are currently active. In this article we try to explore the history of how the number of companies have grown over the years. We trace the history back to 1857 when the first company in India was formed and explore the evolution till September, 2015.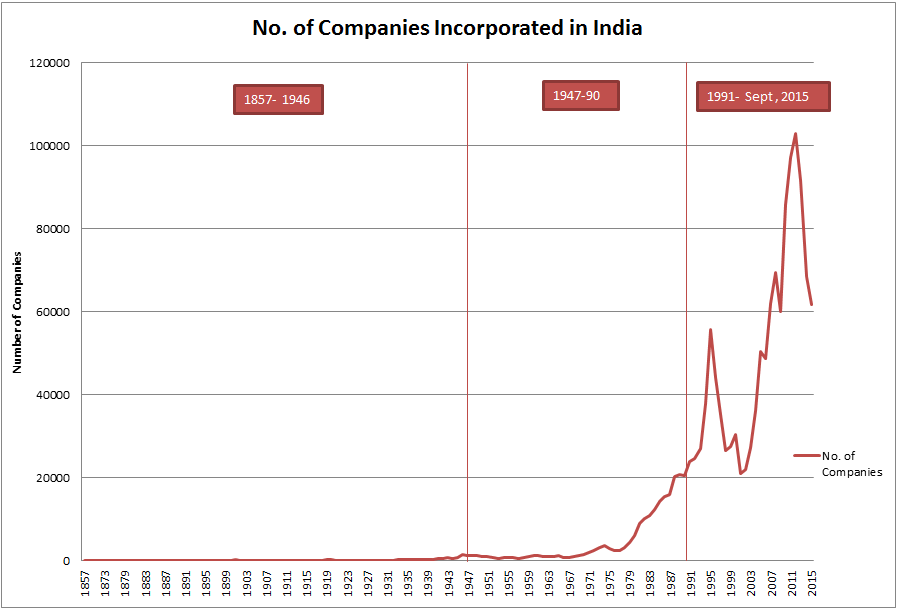 Pre-Independence Era (1857 to 1946)
The first company that came into existence in India was way back in 1857, a company called Jhunjhunu Commercial Company Limited which was registered in Rajasthan. Currently this company does not exist as it was struck off from the Registrar of Companies. The oldest incorporated and currently active company in the country is Cheviot Agro Industries Private Limited which was incorporated on 15th July, 1863 and is based out of Kolkata. Over this period of 90 years (till 1946), a total of 11,383 companies were incorporated, an average of 130 companies per year.
Some notable companies formed were Bennett Coleman and Co. in 1901 which later became Bennett Coleman and Company in 1913, Tata Steel founded in 1907,  ITC Limited in 1910, Tata Sons in 1917, Britannia Industries in 1918, Godrej and Boyce in 1932, Hindustan Unilever in 1933, Bajaj Electricals in 1938, Tata Motors in 1945, WIPRO Limited in 1945, Mahindra and Mahindra in 1945, etc.
1947 to 1989
This period saw incorporation of 1,88,411 companies. The period 1950-90 was the period of License Raj, a period during which an elaborate system of licenses, regulations and red tape existed and posed as an inhibitor to setting up companies. Bharat Petroleum Corporation (1952), Hindustan Petroleum Corporation (1952), Indian Oil Corporation Limited (1959), Coal India Limited (1973), NTPC Limited (1975) etc. were a product of this era when the focus was to make India a planned economy. Among notable private companies were Ashok Leyland (1948), Hindalco (1958), Nestle India (1959), Reliance Industries (1973), Dabur India (1975),Essar Steel (1976), Infosys Limited (1981), Maruti Suzuki (1981), Zee Entertainment ( 1982), Eicher Motors (1982) and Lupin Limited (1983) to name a few.
Post 1990 Era
In the past 25 years, a total of 12,59,463 companies were incorporated. This is 86% of the total companies that have come into existence in the country.
The paradigm shift was initiated post 1990 as there was a major shift in policies with the government introducing Liberalization, Privatization and Globalization in 1993. The number of companies grew and there were 55,691 companies formed in the country in 1995. This can be attributed to the government's initiative to liberalize the economy and allow private sector players to take a key role in business and services. This number fell to around 30 thousand by 2000. HCL Technologies (1991), Adani Port (1993), ICICI Bank (1994), HDFC Bank (1994), Bharti Airtel (1995), Café Coffee Day (1993), etc. were incorporated in this decade.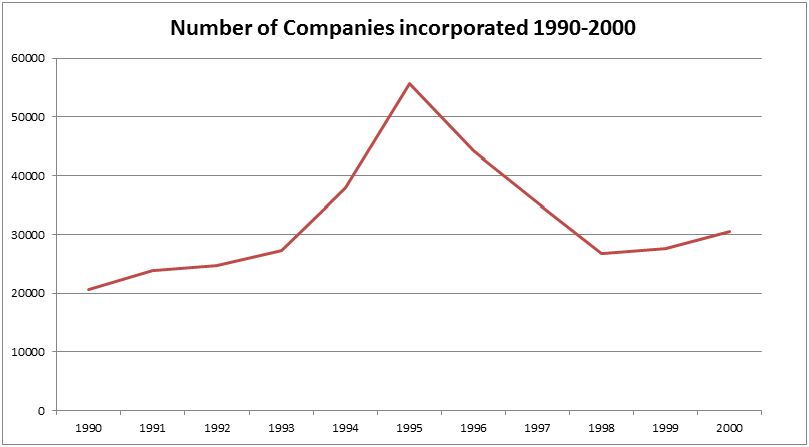 Post 2000, the number grew rapidly over the next decade to reach 86 thousand in the year 2010. Snapdeal (Jasper Infotech Private Limited, 2007), Practo (2008), Paytm ( 2010), Ola (ANI Technologies Pvt. Ltd, 2010), etc. are some popular companies of the period.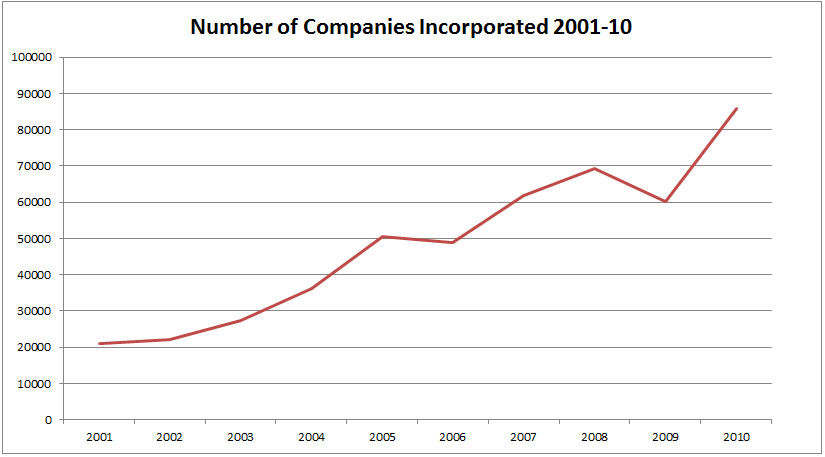 After 2010, around 4.2 lakh companies have come into existence. Flipkart (Flipkart Internet Private Limited, 2012), Food Panda (Pisces eServices Private Limited, 2012), Oyo Rooms (Oravel Stays Private Limited, 2012), TinyOwl (2014) and many other start-ups  were formed in this span.
Around 62 thousand companies have already come into existence till September, 2015, a year in which the Government's Make in India initiative has tried to ensure that new business are able to register and file statutory documents easily and quickly.
The legacy that some of the oldest companies in India carry is more than 50 years and in a few cases more than a 100 years. Most of the companies mentioned in the article are the biggest in the country, and quite a few make it to the Global Fortune 500 list as well. The entrepreneurs behind these companies who have put their blood and sweat in the companies are amongst the richest and most revered in the country, and deservedly so. I will end with a quote from Rob Siltanen:
"Here's to the crazy ones. The misfits. The rebels. The troublemakers. The round pegs in the square holes. The ones who see things differently. They're not fond of rules. And they have no respect for the status quo. You can quote them, disagree with them, glorify or vilify them. About the only thing you can't do is ignore them. Because they change things."
---
Author – Vishal, a recent addition to Team Tofler, combines his passion of writing with searching for a worthy story in a Company, to make an interesting read.
Editor –  Anchal, founder at Tofler, is a CA, CS and has more than 5 years experience in company analysis. She likes to explore and track companies, their performance and senior management.
---