In a world where success stories often revolve around the privileged and the powerful, one exceptional woman's journey stands out as a testament to determination, hard work, and unwavering spirit. Meet Savitri Jindal, a true embodiment of the rags-to-riches tale. From humble beginnings as a commoner to becoming a billionaire, her extraordinary rise to prominence has garnered international recognition and earned her a place on Forbes' prestigious list. In this blog, we delve into the incredible life and achievements of Savitri Jindal, an inspiration to millions worldwide.
Forbes Mention and Global Ranking
Savitri Jindal's exceptional entrepreneurial acumen and remarkable success have not gone unnoticed. As a testament to her achievements, she has been featured on Forbes' list of billionaires, which highlights the world's wealthiest individuals. With her extensive business ventures and significant contributions to various industries, Savitri Jindal's name consistently ranks among the most influential and economically powerful figures globally.
Journey to Success – Rising from Humble Beginnings
Savitri Jindal was born on March 20, 1950, in a modest family in Tinsukia, Assam, India. Growing up in a small town with limited resources and opportunities, her early life was shaped by humble beginnings. However, young Savitri was determined to create a better life for herself and her family. Despite the challenges, she was a bright and diligent student with a thirst for knowledge.
After completing her education, Savitri Jindal married the renowned industrialist, Om Prakash Jindal, and moved to Haryana. In 1970, she became an integral part of the Jindal family, which owned the Jindal Group – a conglomerate with diverse business interests, primarily in steel and power industries.
Joining the Family Firm – Jindal Group
Savitri Jindal's association with the Jindal Group marked a turning point in her life. The untimely demise of her husband, Om Prakash Jindal, in 2005, left a significant void in the family and the business empire he had built. Stepping into his shoes, Savitri Jindal displayed remarkable leadership and business acumen. With unparalleled determination and a keen understanding of the industry, she took up the reins of the family business.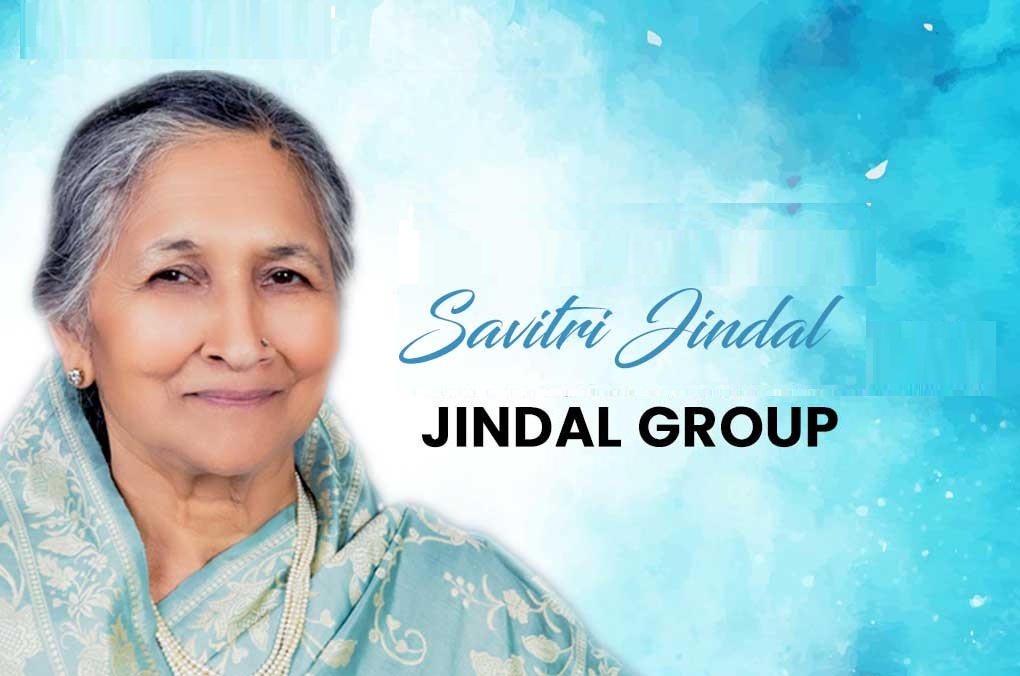 Under her astute leadership, the Jindal Group not only flourished but also expanded its horizons. She diversified the group's interests into various sectors, including infrastructure, cement, and education. Her remarkable ability to navigate complex business landscapes and make strategic decisions propelled the group to new heights of success.
Emphasizing the importance of sustainable development, Savitri Jindal invested in green technologies, strengthening the group's commitment to environmental responsibility. This dedication to sustainability earned her recognition as a leader who not only prioritizes profits but also takes responsibility for the planet and its people.
Balancing Family and Political Life
In addition to her role as a successful businesswoman, Savitri Jindal is also a devoted mother and grandmother. She has raised a large and close-knit family, instilling the values of hard work and philanthropy in the next generation. Despite her significant responsibilities in the corporate world, she has managed to strike a harmonious balance between family life and her professional endeavors.
Savitri Jindal's journey in the political arena is equally noteworthy. She has been actively involved in politics and has served as a Member of the Legislative Assembly (MLA) in the Indian state of Haryana. Her dedication to public service and community welfare has earned her immense respect among her constituents and fellow politicians alike.
Awards and Recognition
Savitri Jindal's exemplary contributions to business, society, and politics have earned her numerous accolades and recognition. From prestigious awards honoring her leadership in the corporate world to commendations for her philanthropic endeavors, she continues to receive appreciation for her outstanding achievements.
Savitri Jindal's success story serves as an inspiration to millions, proving that with perseverance, determination, and a relentless pursuit of excellence, one can overcome any obstacle and achieve greatness. From humble beginnings as a commoner to earning her place among the world's billionaires, Savitri Jindal's journey is a testament to the power of ambition and hard work. Her remarkable accomplishments in business, politics, and philanthropy continue to shape a legacy that will inspire generations to come.