Incorporation yr

2005

Revenue FY14-15

INR 192 cr

Loss FY14-15

INR 29 cr

Revenue Growth

 25%
The online travel industry is one of the most competitive industries in the country with more than 30 players in the market. With undifferentiated products and comparable services, more often than not, there is little or no loyalty among the customers for the service providers. Tofler explores the financials of one of the top players in the industry – Cleartrip.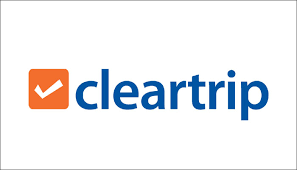 Cleartrip.com is owned and operated by Cleartrip Private Limited. It was founded by Stuart Crighton and Hrush Bhatt in 2005. It is an Online Travel Agency (OTA) and provides online booking services for flights, hotels, trains, buses and travel packages. Cleartrip figures among the top 3 OTAs in India along with MakeMyTrip and Yatra with presence of other players like Goibibo and Ezeego.
Financial Performance of Cleartrip
Cleartrip reported a revenue from operations of INR 192 crores in FY14-15 with a loss of INR 29 Crores. Its revenue from operations and loss stood at INR 154 crores and INR 41 Crores, respectively, in FY13-14.
The travel portal hoped to break even in FY14-15, which did not happen but they seem to be moving in that direction for the past two years. They managed to reduce their losses by 28% over the previous fiscal. The following chart presents their Profit/Loss over the past 7 years.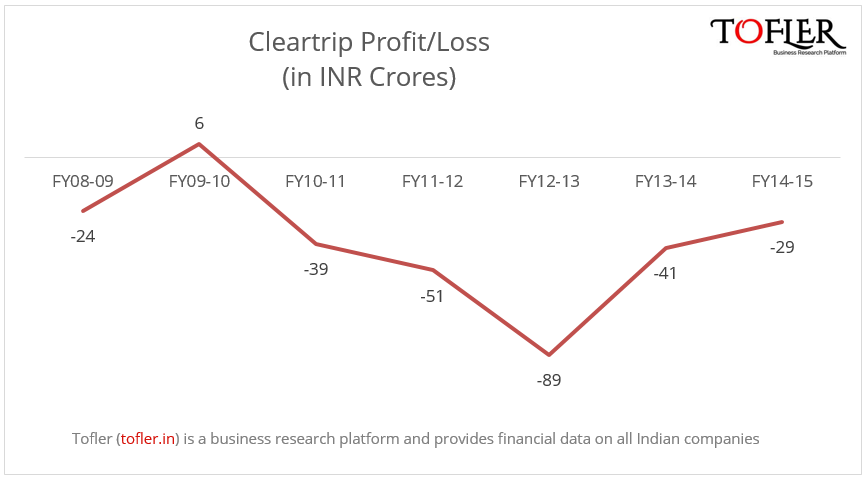 It is however noteworthy that the reported revenue from operations is net of Discounts of INR 38.51 Crores which is not included in the expenses. Discounts amounted to INR 23 Crores in FY 2013-14.
How does Cleartrip make money?
Cleartrip's revenue comprises of the commission from airlines, hotels, railways and affilates; service charges and cancellation charges on online booking; incentives earned from airlines; sale of tour packages and third party advertisements on the company's website. A part of the revenue also flows in from the fees it receives from Global Distribution Systems service provider, which provides Cleartrip access to global travel content including bookable airlines, hotels and more.
Service Charges contributed to almost half of their entire Gross Revenue. Following is the breakup of their Gross Revenue Block (without deducting the discounts) of INR 231 Crores (in FY14-15) and INR 173 Crores (in FY14-15).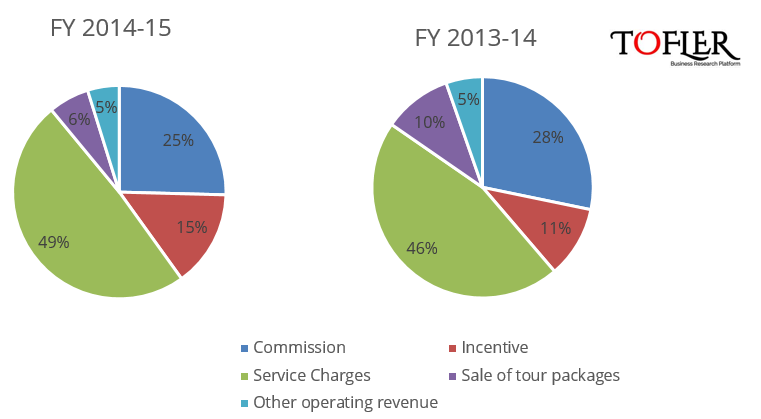 The company's major expenses include employee expenses (22%), advertising promotional expenses (21%), credit card collection charges (15%) and commission to agents (7%) in FY14-15.
Segment wise, Air and Hotel combined, contributed to almost entire revenue of the company. Air appears to be the largest operating division in terms of revenue and also the closest to breaking even.

Companies in the OTA industry are trying to offer unique propositions to the customers as the discount models to drive up sales volumes is not feasible in the long run. In one such bid, Cleartrip launched Activities in August, a handpicked & comprehensive collection of activities, experiences and things to do in a city. With Activities, it plans to go the hyperlocal way to reach users across 50 cities. We might witness a new trend emerging soon!
---
This article was originally published here by Team Tofler.
Author– Vishal, a Sci-fi enthusiast, engineer by mistake and writer by choice, combines his eye for numbers with natural flair for storytelling to churn out Tofler's blogs.
Editor –  Anchal, founder at Tofler, is a CA, CS and has more than 5 years experience in company analysis. She likes to explore and track companies, their performance and senior management.
---