Are you doing business with a Small or Medium sized company? Are you a vendor, customer or a competitor of a Small or Medium Enterprise (SME).  Are you planning to enter into a Joint venture with it? How do you study small and medium sized companies? What documents should be reviewed?
Although, the information requirements depends on the purpose of study – from the point of view of vendor, customer, investor, joint venture, competitor etc, but the following are a few common requirements:
Balance Sheet – Reviewing the past performance of the company for last 3-4 years is essential to check the financial health of the company. Does the company have enough assets to make your payments. Does it generate enough cash? Is the company deep in debt? What are its its liabilities? Does the company have huge outstanding creditors or it pays them off regularly?
Profit and Loss account – This document also helps in reviewing the past performance of the company. What is the scale of the company? What are its revenues? What are its profits? Does it make enough profits? Is it in losses? For how long can it sustain losses?
 Learning about Directors – It is equally essential to know who is running the company? Value investors say that the actions of a company depend on its top management. It is essential to know whether directors enjoy a good market reputation. What do people say and think about them? Are these directors running any other company also? How is that company performing? What is the director's salary as a percentage of Company's profits?
Exploring Network of the Company – Explore the network of the company and discover who is the company associated with?
Funds raised by company in the past – When and at what valuations has the company raised in the past? You would be particularly interested in this information if you are planning to invest in the company. You can also look at the special resolutions passed by the company in the past to understand its decision making process.
There are many more documents that can be helpful to you depending on your purpose. You can use Tofler to find financials and all the documents filed by the company with the Government. Tofler maintains database of all 14 lacs companies in India. You can also use company value reports provided by Tofler that will summarise important information (bank loan, funds raised in past and valuations, previous directors, auditors, balance sheet, profit and loss, and more) in one report. It will  also analyse the financials of the company and its past performance for you. These reports contain financial ratios to analyse liquidity, leverage, efficiency etc. Also explore a company's network, its directors and their other directorships at www.tofler.in.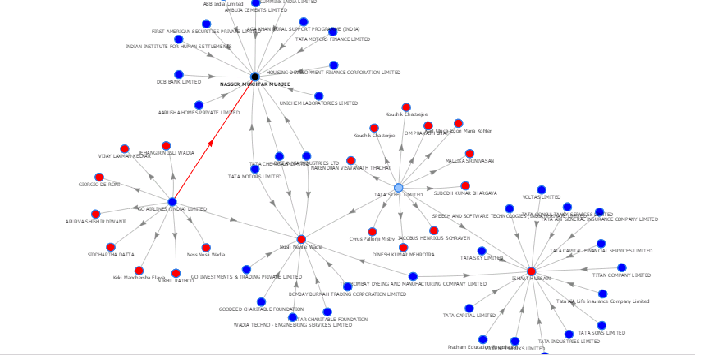 Explore the Company network visually at www.tofler.in.