When we talk about forging companies in India; carbon steel, alloy steel, stainless steel, super alloy, titanium, copper, brass, and aluminium are just a few of the raw materials that forging industries are capable of fusing. It is a crucial component of every industry driving the development of the country, including transportation, general engineering, railroads, industrial machinery, power, and construction and mining equipment. The country's 378 foundries contribute to the Indian forging industry's current revenue of Rs 34,000 crore. Let us now see the list of top forging companies in India and learn more about them in detail.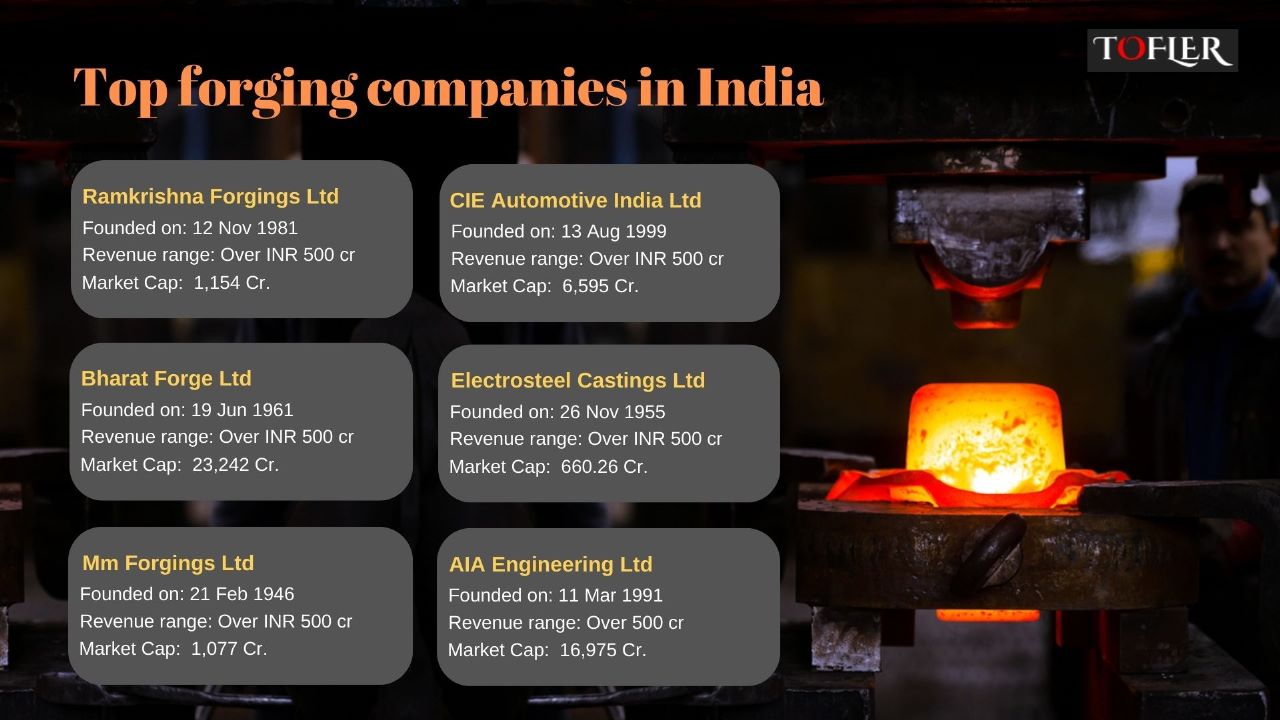 The renowned forged maker and supplier Ramakrishna Forgings Limited was founded in 1981. The business is at the forefront of the steel and iron manufacturing sector after receiving certifications for TS 16949, ISO 14001, and OSHAS 18001 standards. They are well recognised for producing Alloy Steel, Micro Alloy Steel, Stainless Steel, and Carbon closed and die forgings that are created with consideration for the customers' needs. The supply of these items, which encompasses a wide range of forms such heat treated, machined, forged, and fully assembled, is unmatched in addition to their manufacture. Additionally, it has been distributing items for both the local and international markets, including draw gear assemblies, frame keys, bolster suspension, screw coupling, etc.
CIN: L74210WB1981PLC034281
One of the suppliers and manufacturers also known as one of the best forging companies in India with the fastest growth is MCIE, or Mahindra CIE Automotive Limited. Along with Britain and Germany, they have developed roots in India. Construction, mining, railroads, agriculture, the motor industry, and other sectors employ the high-quality forged and mechanised products produced by MCIE. The organisation guarantees to give you strong engineering capabilities because of its qualified staff's in-depth expertise in engineering and designing multi-part automobile parts.
CIN: L27100MH1999PLC121285
The largest and one of the top forging companies in India is Bharat Forge Limited. The organisation has widened its geographic reach as one of the top technology-driven global service providers. The company, which was founded in 1961, provides services to a number of industries including automotive, oil, power, mining, aerospace, construction, and marine. For the purpose of producing sophisticated turbines and generators, the Pune-based firm and Alstom, a well-known French power provider, have formed a joint venture.
CIN: L25209PN1961PLC012046
One of the first and biggest incorporated element makers in the nation, Ahmednagar Forgings has a strong and substantial international clientele. It has grown to be one of the top-tier, biggest forging machining, and fully integrated businesses. The company's operations in aluminium and iron, machining, subassembly, and forging have won it a reputation not only in the Indian auto component markets but also throughout the world.
CIN: L28910MH1977PLC019569
MM Forgings was founded in 1946 but became known as one of the top forging companies in India in 1974. It is a significant forging provider both domestically and abroad. Being recognised for export excellence by the Engineering Export Promotion Council has made the company well-known. In order to meet the various demands of both domestic and foreign customers, they have been steadily improving their forging capabilities and machining capacity over time.
CIN: L51102TN1946PLC001473
The most well-known and respected provider of pipeline solutions services in India is Electrosteel. With more than 50 years of experience, they have successfully met the demands of clients both domestically and internationally for ductile iron pipes. They specialise in machining, which is said to be excellent and flawless. Electrosteel has been able to produce tonnes of hot metal, which is utilised to make products like iron, wire rod, TMT bar, etc., thanks to India's focus on bolstering its infrastructure.
CIN: L27310OR1955PLC000310
One of India's leading producers and suppliers of steel and iron, Jaiswal Neco was established in 1976. The business has grown tremendously popular as a well-known member of the NECO Group of Industries. The business has locations in Maharashtra and Chhattisgarh to serve the diverse demands of bearing, engineering power, fastener, automotive structural, railway, and many other industries. Today it stands as one of the top forging companies in India.
CIN: L28920MH1972PLC016154
One of India's most well-known and respected forging businesses. The company, which was founded in 1982, is only passionate about and committed to providing products of the highest calibre, earning it notoriety in this industry. The competence and participation of the company depend on a variety of products, including forge valves, fittings, flanges used as automotive spare parts, and much more. Customer satisfaction and superior product quality are the company's main goals. They are well-known for their knowledgeable and competent employees who work in a variety of disciplines, including die and tool manufacturing, heat treatment, grinding, testing, and many more.
CIN: U28939PB1993PTC013080
Regarding both domestic and international levels, it is one of the well-known integrated and forging component service distributors. It has established a significant and widespread global presence and grown to be a reputable forging and integrated machining company. Forging,, machining, and sub-assemblies are among the procedures that the company is known for pushing. The US, UK, Germany, Romania, Italy, Brazil, and other countries are among those where AMTEK has facilities and services available.
CIN: U13209DL2009PLC196604
It is a well-known and pioneering forging enterprise in India. The business is well known for its work in the metal forming and machine tool industries. It has a background in machine tools and accessories. It is a known and significant forging firm. It competes with some of the best forging companies in India and stands its ground pretty strong.
CIN: L28910MH1971PLC015119
Conclusion
The aforementioned businesses are capable of producing raw materials including stainless steel, alloy steel, carbon steel, titanium, aluminium, brass, and copper, among others. It is an essential component of all the industries and sectors that are propelling India's development. Electricity, autos, industrial machinery, general engineering, railroads, and construction and mining equipment are a few of these.